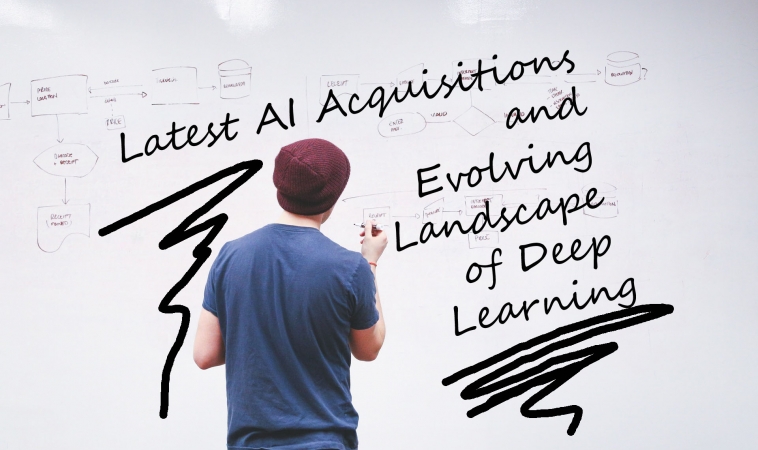 Latest AI Acquisitions and Evolving Landscape of Deep Learning
Startups are one of the most technology dependent personalities on the business landscape today. This is due to the cutthroat nature of the world of business. These firms rely heavily on technology because the businesses with anything to offer today need to be beyond the competitors by miles. Technology has provided ways through which people can achieve tasks in much simpler ways. This means that there are more cost effective means of achieving goals, making it harder for startup companies to pose any real threat. Before a startup is able to create any new business or innovation, there are numbers of larger firms that can provide similar facilities cheaper due to the economies of owning a large scale. This makes startups increasingly reliant on technology for them to pose any real threat in the world of business.
There has been an almost exponential growth in the world of deep learning and its related research in the recent years. More companies around the world are becoming aware of the potentials that lie in this technology and are beginning to take advantage of it. This creates an environment where the innovative startup companies are constantly being poached, funded and even mentored into being industry leaders and leaving the position of a struggling startup. There are a lot of small startup companies that have worked hard in advancing the artificial intelligence landscape and this has not gone unnoticed by the much larger corporations. Big companies depend on these small startups to a large extent because it saves them the time and expense of research that it takes to pave new roads in such fields. Therefore, smaller companies do all the work and then they simply splash the cash in order to advance that work or buy out the company as a whole. This is a very effective framework, and it proves to be a very cost effective means of operating. Lets take a look at some of the latest acquisitions in the world of artificial intelligence.
Latest acquisitions in the world of AI depicting the constantly evolving landscape of deep learning
Keeping track of the performance of the smaller startups is a great way to monitor the performance of deep learning technology as a whole. In recent weeks, Metamind, a company that specializes in natural language processing (NLP) was acquired by Salesforce, a much larger organization. In less than two years, the company was able to show its potential in the field of Artificial Intelligence and this didn't go unnoticed by Salesforce. Now under the much larger organization, they are working on a newer integrated Artificial Intelligence platform, which has large potential for enterprise users.
Apart from Apple's latest acquisition – Turi, it had previously bought another company that has a lot of potential on the AI landscape. Emotient has always struggled to create a platform that incorporates computer vision and the ability for machines to express sentiment. This has a lot of potential for machines in the understanding of facial expression dynamics and the ability of Artificial Intelligence to distinguish between real and fake pain. Apple was greatly impressed by this view and went all out to acquire the budding new company.
Also, Amazon recently acquired a company that specializes in artificial intelligence and deep learning named Orbeus. This acquisition was a major coup by Amazon, which has displayed its interest in developing new innovative ways of doing business. They were able to acquire a company whose technology would be incredibly useful to them in a number of ways. Amazon has recently tried to create a camera search function, and the technology provided to them by their recent recruit can work wonders in that department. It could also improve their efficiency in robotic packing and delivery.
These recent acquisitions show that there is vast potential that is to be tapped in the world of Artificial Intelligence This clearly depicts the constantly evolving landscape of such a cutthroat industry. The much larger companies stand to gain a lot from the smaller ones. This is not a one-way operation, as the smaller ones could also benefit from the wealth of experience and finance that the big companies can offer. If there is going to be any advancement in the world of AI and deep learning, both would have to work hand in hand to create a world of unlimited potential. Both players have a role to play in advancing technology, and even creating more innovations that can transform the way businesses operate.
Brought to you by the RobustTechHouse team.  If you like our articles, please also check out our Facebook page.