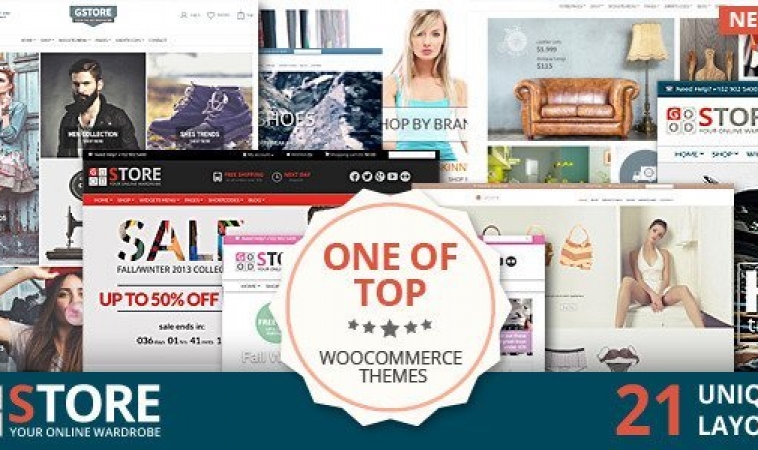 Top 10 Best WooCommerce Ecommerce Themes
Are you in the process of launching an eCommerce online store? Did you review the many platform options available eg Shopify, BigCommerce, WordPress with WooCommerce, Magento, Joomla, Spree and many more etc?
Did you then decide you like WordPress for its ease of use and powerful content management and blogging ability? If so, WooCommerce is likely your best choice. Now your next decision is what are the best WooCommerce Ecommerce themes to start off with that gels with the style of your shop.
Flatsome
Available from UX Themes, the FlatSome Theme's features include SEO optimization, drag-and-drop page editing, and responsive layout. This popular theme works on all standard browsers. We feel that it is one of the best WooCommerce Ecommerce themes around.
Kallyas
Offered by Hogash Studio, the Kallyas theme is appropriate for a multitude of ecommerce sites. Whether you sell widgets in Wichita or shop supplies in Singapore, the Kallyas theme will work for your needs. Features include pricing tables, circular sliders, portfolio pages, and blog capabilities too.
SoCute
Offered by Your Inspiration Themes, the SoCute theme offers a huge number of layout options suitable for a variety of ecommerce businesses. With features that include page zoom, catalogue mode, new product pop-ups, and product feedback forms, it is easy to understand why the SoCute theme is so popular with ecommerce business owners.
Neighborhood
Offered by Swift Ideas, the Neighborhood theme is a retina-ready ecommerce theme with a responsive layout. Features include custom page building, color customization, over 600 font choices, and both catalogue and wish list capabilities. Definitely one of the best WooCommerce Ecommerce Themes around.
The Retailer
Available from Get Bowtied, The Retailer theme is another popular WooCommerce-ready theme you can consider for your ecommerce venture. Features include responsive layout, multi-language customer support, retina graphics, and customizable headers.
Retro
Offered by Olegnax, the Retro theme is a terrific option if you are looking for an ecommerce theme with a bit of a vintage feel. Just a few of the features you'll enjoy on your site are customizable widgets, custom post options, multiple Google font choices, and a delightful one-click installation process.
Good Store
Available from J & W Templates, the Good Store template is an excellent option for online store proprietors. With 19 different layouts to choose from, you are going to have a tough time picking just one look for your online business. Features in this tempting template include SEO optimization, retina-ready responsive layout, both catalogue and look-book modes, and a drag-and-drop page editor too.
Oxygen
If you are looking for a minimalist theme for your online ecommerce store, the Oxygen theme from Laborator is an excellent option to consider. Features include shopping cart and wish list integrations, contact page and look book capabilities, and multi-language support. This theme is also optimized for touch-screen devices.
North
Available from Fuel Themes, the North theme is a must-discover option for online retailers. Compatible with multiple web and mobile browsers, this top-rated WooCommerce theme offers features like full screen layouts, background and color customization, customer account pages, and a table rate shipping integration too. With multi-currency and multi-language customer support, this visually enticing theme should definitely be on your must-investigate list.
Replete
Offered by Kriesi, the Replete theme is another top-ranked WooCommerce-ready template for online retailers. Features include responsive layout, post format customization including gallery, quote, and video options, slideshow capabilities, and a one-click responsive deactivation feature.
Conclusion
When you are trying to choose a WooCommerce theme for your online business, it can be tough to narrow down your options. Reviewing themes that other online retailers have given top marks to is an excellent way to reduce your confusion and save time. Above, we gave our views on which are the best WooCommerce Ecommerce themes to check out. Which of these above-listed themes will you be considering for your online eCommerce store?
Brought to you by RobustTechHouse. We provide E-Commerce Development services.