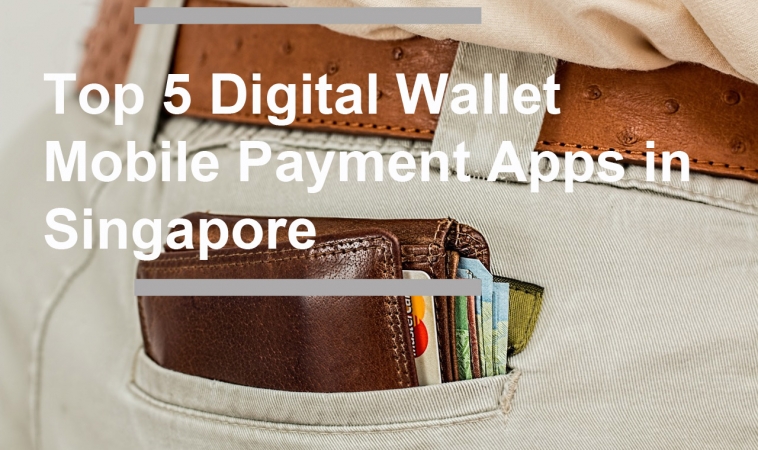 Top 5 Digital Wallet Mobile Payment Apps in Singapore
With heaps of business, entertainment and lifestyle apps available on the market, it seems like most of our lives have moved onto smartphones and tablets. Even if you're not an avid app user, you probably have a software or two that's designed to make daily activities and errands easier for you. In the growing digital era, more and more people don't even carry cash around anymore, finalizing all their transactions via online payment services and clever apps. If you're looking for a safe, hassle-free option for paying your bills on the go, then keep on reading for a quick guide on the most reliable digital wallet and mobile payment applications.

Dash
Affiliated with over 20,000 locations all around Singapore, this mobile app allows you to make quick online payments without any difficulty, messy calculations and additional fees. You can use Dash for public transportation, money transfers or to top-up your balance at any of the following banks – OCBC, DBS, Citibank, United Overseas Bank and Standard Chartered Bank. This app comes in handy if you're on the go and have to make a fast money transfer for your loved ones or if you want to pay for a train, taxi or bus ride without having to endlessly sift through your cash. Featuring a simple, user-friendly design, Dash allows you to instantly transfer money to a friend's bank account, enjoy remittance services overseas, as well as benefit from various special discounts when you commute or do your grocery shopping.
UOB Mighty
Using this app, you can keep your finances in check, track your account balance and carry out instant money transfers anywhere in Singapore. Affiliated with over 400 billing organizations, the app allows you to pay your fees online to hundreds of companies, as well as keep tabs on your debt, loans and product purchases. Compatible with both Android and Apple devices, UOB Mighty ensures safe and simple transactions, providing its users with the option to digitize their credit cards and have access to over 10,000 MasterCard and Visa terminals. In addition, the software allows you to search for dining locations nearby, bookmark your favorite restaurants and make reservations with a simple tap.
Apple Pay
Apple Play is a reliable, effective online payment app that allows you to make quick transactions anywhere, at any time. Featuring an exclusive identity code and a device-linked number to ensure safety and privacy, the mobile software can be used on iPads, Macs and iPhones without any registration or login requirements. Additionally, you can also make one-tap purchases either online (on various shopping websites) or in hundreds of retail stores that accept the application. Using Touch ID and tokenization to keep your transactions secure, the app is available in the US, UK, France, Hong Kong and Singapore and has been accepted in over 2.5 million shops in the United States alone. Soon it will be coming to Apple Watch too!
Android Pay
Google's latest software for in-app transactions, Android Pay, is currently one of the most comprehensive and reliable mobile payment apps on the market. Designed to make your shopping easy and hassle-free, the program uses near field technology (NFT) and a contactless card reader in order to wire your money. Affiliated with over 1 million stores in the United States, Android Pay requires you to set up your lock screen as a safety precaution and saves history logs of your transfers and purchases. Like Apple Pay, the app uses wireless communication and doesn't emulate the signal used to make contactless payments. However, Android Pay isn't supported by all the major banks yet, although it does place more focus on online payments than its competitors.
Samsung Pay
Available for the latest Samsung Galaxy S7 and S6 versions, this mobile app is compatible with several major banks and works in almost all retail stores, even for more conventionally designed terminals. Currently available in the United States and South Korea, the application has recently been launched in Australia and Singapore, allowing its users to make secure, fast transactions and purchase various products from hundreds of stores with a simple tap. The feature that makes Samsung Pay unique is that it's accepted in a vast majority of locations. Unlike Android Pay, this mobile app requires PIN or fingerprint authentication, is viable for most terminals (not just NFC ones) and accepts credit, gift and debit cards.
Whichever digital wallet and mobile payment gateway app you choose, there's a wide spectrum of options available for you to try out instead of the conventional transaction methods. If you don't have the time to move from bank to bank, wait in line at ATM machines or you simply don't like paying cash everywhere you go, then these apps are bound to make your life easier and your nights out more enjoyable. So give these user-friendly options a try and find out which one works best for you.
Brought to you by the RobustTechHouse team.  If you like our articles, please also check out our Facebook page.