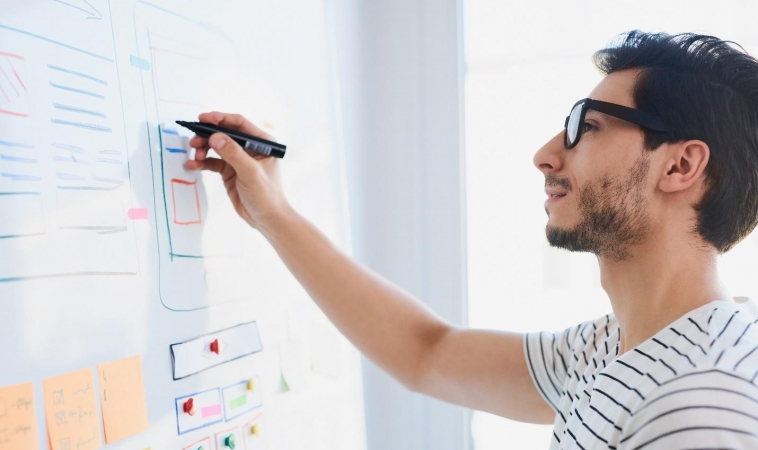 Smartphones are an essential part of our lives. From the moment we are woken up by our phone alarm, check emails, peruse headlines as we drink our morning coffee, look up the weather forecast to know if it's going to be a dull or shiny day and ensure our daily activates flow seamlessly through calendars and project managers. Over 2.1 billion people around the world, rely heavily on their mobile phones to function properly.
More companies are embracing a mobile-first mindset as they recognize that mobile is a necessary investment. Mobile is more mainstream, businesses are creating services geared towards mobile in a bid to maximize revenue and the demand for excellent apps that meets the high expectation of global mobile users is on the rise. Google Play Store and Apple App Store, house over 4.2 million apps combined and the number keeps rising. Gartner also predicted that app downloads will generate a staggering revenue of $77 billion in 2017.
What are the major game-changing mobile app development trends we've witnessed in 2017 and will they continue into 2018?
Major app development trends in 2017
Enterprise mobile app development
Most companies have an enterprise app at the core of their digital strategy. However, businesses are making a gradual transition to modernity to take advantage of the benefits from Internet of Things and the ease of access to technology integration for their customers and business. To address the issue of scarcity of experienced or skilled mobile developers, some enterprises use Rapid Mobile App Development technology, a programming tool that doesn't require coding to accelerate the building process and mitigate specific issues with large internal apps.
Apps have become more intelligent
In 2016 there was an explosion of Artificial Intelligence capabilities and new use cases. While AI functions in different ways, they generally possess a level of sensory input to provide self-improving output centred on the sensory input. The underlying elements of a 2017 AI is deep learning, natural language processing and machine learning.
Intelligent applications are developing the following use cases:
Reducing the load on value-added activities by automating simple repetitive tasks that are time-consuming.

Generate useful data for the app user at the required time in the right context.
Cloud-driven Mobile Apps are more popular than ever
Everyone from tech professionals to end users know about the meaningful impact of cloud technology on daily activities. "Cloud computing has solidified its position with mobile apps", says Brendan Wilde head of marketing at Umbrellar Cloud Backup. "Top mobile apps now collect data directly from cloud while using small spaces that have no real impact on your phone's internal memory".
A research by Cisco reveals that outside of big guns like Dropbox, Google Drive and OneDrive, cloud apps will drive 90% of the entire mobile data by 2019. This indicates that cloud-based apps will progress beyond 2017 and far into the future.
More people are using Wearable devices
Figures from the International Data Corporation reveals that the market for wearable should see a CAGR of 20.3%, resulting in 213.6 million units that would be shipped by 2010. Some of the groundbreaking wearables released in 2017 include the Under Armour Gemini 3 shoes, Withings Steel HR, Fitbit Alta HR, Apple Watch Series 2 and Wahoo Fitness Elemnt, among many others.
Mobile payments
In spite of growing concerns over security, mobile commerce apps gathered momentum in 2017. However, Google and Apple continually work tireless to improve security and protect user data on their portals.  Instead of using debit cards to make purchases, customers prefer Apple pay or Google Wallet. Wearable devices combined with m-commerce means that companies can collate more meaningful data and predictive analytics to boost m-commerce and overtake the more traditional e-commerce channels.
Progressive web apps are gaining attention
The ease of development and instant satisfaction for user experience on the app have drawn attention to Progressive Web Apps.  At every step between the user's first contact with the app and first use, a mobile app loses 20% of its users.  PWA users circumvent this by using it first without downloading. They work well for all users whatever your browser preference and possess progressive enhancement for its core tenet. Their main function is to load websites efficiently on mobile devices especially in areas with unstable internet.
Location-based technology continues to shine
The healthcare and retail industry are the main niches that have seen an expansion of location-based beacon technology and it hasn't slowed down in 2017. Juniper research forecasts that in 2019, location-based services will generate $43.3 billion worth of retail revenue. Retailers use beacon to close the gap between online and in-store experience by collating traditional metrics like footfall, push notifications and vital in-store data.
Android First
Developing a mobile app for multiple platforms at once costs a lot of money especially if your primary aim is to establish a loyal, customer base. To save money, most business start with one platform which in 2017 has been Android. In spite of the pain and fragmentation that accompanies developing apps, Android is still the leader with a global market share of 86%. It is stronger in populated developing countries across Asia, South America, Africa and the Middle East where Apple has a very small market share. So if the target is to reach a wider audience, Android is your best bet.
AR and VR is taking hold
Augmented Reality caught our attention in 2016 with the release of Pokémon GO and it has continued to rise in 2017. The game dominated both IOS and Android app stores to prove that AR technology has incredible potential to affect consumer decisions in meaningful ways. While apps featuring AR were seen as promotional, a large number of apps have included AR in their utility. An example is Yelp's Monocle that makes it easy for mobile users to find top attractions and food using augmented reality to show the user a street view of the location.
Conclusion
While these are the top trends changing the mobile app development scene, rapid shifts in user behaviour forces companies to remain flexible in their designs so they can adapt quickly to meet consumer needs. The attention span of the average user is short and mobile users don't spend longer than 8-12 seconds at a time when browsing an app. Consequently, what remains consistent from last year is the need for developers to create high-value apps that entice the user to stay longer than 12 seconds to avoid losing out to the competition.
Brought to you by Robusttechhouse
---
Also published on Medium.