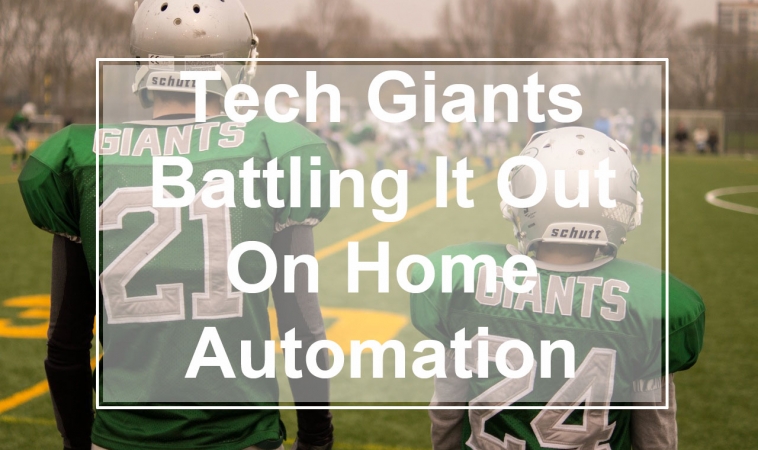 Tech Giants Battling It Out On Home Automation
Home automation is one of the exciting new prospects that has come with the technology of the Internet of Things. The ability for an individual to have a series of interconnected devices and appliances in the home, from which actions can be elicited and reactions provoked, seems to be a stunning idea. There is a lot of potential in this technology, and this is perhaps one of the reasons why the tech giants are becoming more and more interested in this innovation. Two of such giants include Google and Amazon.
These are companies noted for their fierce adoption of new technology and have massive funding to undergo the reforms that they will require through research and development. These big companies have long challenged each other on new innovation, and it is perhaps one of the advantages that is championing the discovery of new technology.
Google home is one piece of technology that hinges solely on the internet of things. The ability for the individual to control interconnected devices within the home is amazing, and there are a lot of prospects that lie in this technology. Amazon has not been left behind in terms of this innovation, and they have produced their own home automation system which is known as Alexa. Both systems have their pros and cons, but this is far from a review. We will be looking at it from a more generalized perspective, analysing the benefits of these tech giants battling it out to produce the best from this technology.
Competition is a good thing in business, and when it comes to innovation, competition is an even greater thing. With competition, these companies will push each other to discovering new things every day, and will produce the best of innovations for the public, at reduced prices. Let's take a more in-depth look at the tech giants, and their battle over home automation technology.
The BIG Scramble & The Ultimate Holy Grail
The concept of a smart home is one that is definitely appealing. Internet of Things has already began to display the prospect of the individual living in the house to control everyday appliances from the comfort of the mobile phone. These tech giants have poured a lot of their resources into making this innovation have even more applicability. Big companies like Apple, Google and Amazon have all fought to provide the greatest insight on this technology, and this has led to a form of fragmentation. They are all ensued in a battle for supremacy of the company that will be at the apex of the internet of things for the home. While Apple is further behind Google and amazon, they are still pushing hard and trying to advance the innovation.
Google recently announced their new technology, which is a home virtual assistance system. This technology has impeccable implications and will most likely see them hold market dominance in the near future. However, companies like Amazon are far from resting on their laurels. The development of technology systems like Alexa and Echo have brought much needed competition to the innovation market. The Google home system can allow you control a number of operations from your mobile device at home, and totally gives the consumer the feel of the home automation system.
These tech companies have pumped a lot of resources into creating products that are interconnected, helping the human race gradually move towards the age of the internet of things. Since home automation has a lot of aspects and categories, it is giving the tech companies a lot of room to decide on which they are best suited to fulfilling. This means that despite the squabble for supremacy of the technological system, perhaps there is space for everyone on the market.
At the moment, the leaders are Apple, Google and Amazon, and this is largely down to the fact that such companies have the financial strength to back such smart innovations. Apple has given its users the ability to control things from the iPhone or iPad. Google also purchased Nest in 2014, which offers a lot in terms of home automation. With such purchases going on, it shows that there is room for even the smaller companies to benefit from. There is a lot of room for tech companies, big and small, to benefit from this innovation. While we are still very far off from the potentials to be realized, we are definitely still on course.
Countries in Asia like Singapore have not really witnessed the true effect of home automation, but with these tech giants championing the push towards deriving the benefits of this innovation, we are definitely going to see much more in the coming years. The ultimate Holy Grail will be a world where internet of things has true dominance, and even the smallest of appliances will be interconnected, constantly feeding data into an AI to assist the home owner in automating everyday mundane tasks.
Brought to you by the RobustTechHouse Chatbots team.  If you like our articles, please also check out our Facebook page.