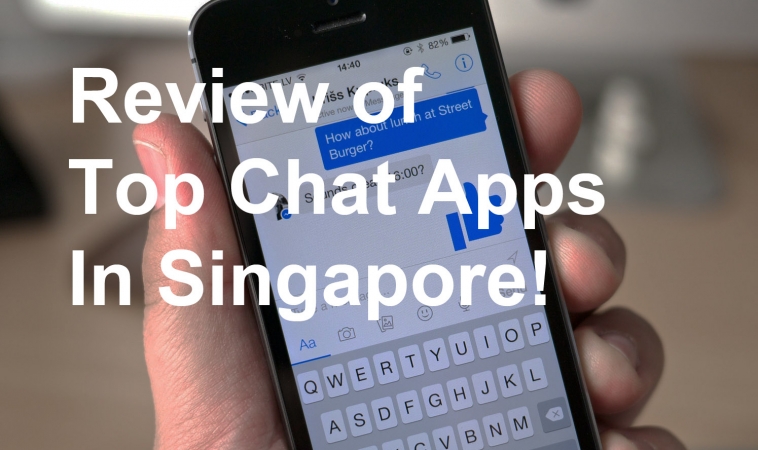 Review of Top 5 Chat Apps in Singapore
Previously we had reviewed some of the top banking apps,  top bus apps and taxi apps in Singapore. Today we are moving on to Chat Apps! Traditional SMS text messages are slowly but surely becoming outdated, as social media outlets become more and more popular. With hundreds of new messaging apps emerging every month, connecting with friends and family has never been easier. Whether you're interested in online dating, you have co-workers who need your help when you're out of the office or you just want to get in touch with an old friend from high school, there are now countless ways to interact with those around you and spend quality time with your loved ones, even when you're miles apart. Even if all you're looking for is to find nearby people and make new friends, you're bound to find an app that makes meeting new people that much more fun and accessible. Without further ado, here are the best chat apps currently on the market in Singapore.

1. WeChat
This all-inclusive communication app is used by over half a billion people world-wide
and offers access to free texts, voice and video calls. With no subscription fee required, WeChat provides its customers with free, high-quality calls to any location in the world, as well as the option to send text, image, voice and video messages to your close friends through multimedia messaging. Featuring real-time location sharing and language support that operates in up to 20 different languages, you can let your family know where you are with a simple swipe or translate your message into other languages if you're talking to your pen pals or closing a deal with an overseas business partner. The app also comes with the "Friend Radar" and "People Nearby" options, which allow you to meet new people, as well as create bulky group chats with up to 500 people. WeChat is a broad, comprehensive app, encompassing all the necessary tools for effective and fun communication in all social contexts. The software also has several useful sharing options like "Sticker Gallery" and "Moments", allowing you to create your own personal photo collection and choose from hundreds of amusing animated stickers to express how you feel.

2. Line
Line attempts to revolutionize communication all around the globe, bringing friends
and family closer together. Allowing you to send private or group texts to your loved ones, this app brings to you over 10000 emoticons and stickers to convey how you feel. Aside from free messaging, Line also provides you with free international video and voice calls, wherever you are. So next time you're out of town and you'd like to keep in touch with your wife and kids, just download this app and you can see your loved ones in a matter of seconds, with a single tap. There's no time limit to your calls, so you can keep the conversation going for as long as you want. In addition, you can follow your favorite artist's newsfeed, as well as catch up on promotions from your preferred brands and exclusive announcements concerning your favorite TV Shows. Line is now available on Android, Windows Phone, iPhone and Blackberry.

3. Facebook Messenger
One of the most basic, user-friendly communication apps out there comes from the
unparalleled leader of social networking service – Facebook. With over 1.5 billion monthly active users as of 2016, their Messenger app lets you know if your messages have been delivered and when they've been read. Moreover, you can send videos and photos instantly using the built-in camera that comes with the Messenger. You can also record voice messages and make HD calls, but you'll be charged by your phone service provider for any acquired data if you're not connected through Wi-Fi. This app comes in handy when you're on the go, but if you're looking for more advanced communication and sharing tools, then we recommend checking out some of the more versatile chat apps on the market.

4. WhatsApp
Currently the hottest app on the Singaporean market in terms of meeting new people
and chat options, WhatsApp has a surprisingly easy-to-use setup and a wide range of sharing tools at your disposal. Wildly popular in the United States, this cross-platform software allows you to exchange messages with your friends and family, without having to pay for SMS. With a user base of one billion, the app has also been introduced in Southeast Asia, where it quickly became a growing trend. Featuring free calls, multimedia, chat history, no international charges and group chats, WhatsApp automatically syncs with your phone's contacts and uses your address book to make connections so that you don't have to remember tricky or confusing usernames. The app also saves your offline messages so you don't miss any important notifications while your phone is turned off.

5. Skype
One of the veterans of social networking and recent messaging software, Skype is still
very much in trend due to its reliability and user-friendly setup. Featuring instant messaging, call forwarding, contact list filtering, file share, calendar events, photo and location sharing, as well as voice and video messaging, this long-established app is widely-known for its dedication to its customer base, offering trustworthy resources for successful communication, whether it's family-related or professional.
Messaging apps are a rather recent, but extremely useful tool for people from all walks of life. Whether you require quick access to facilitate work relations, you're looking to make new friends or you want to keep in touch with your loved ones wherever they are, these chat applications are designed to improve world-wide communication and help you stay connected to the important people in your life.
Brought to you by the RobustTechHouse team (Singapore based app development company).  If you like our articles, please also check out our Facebook page.