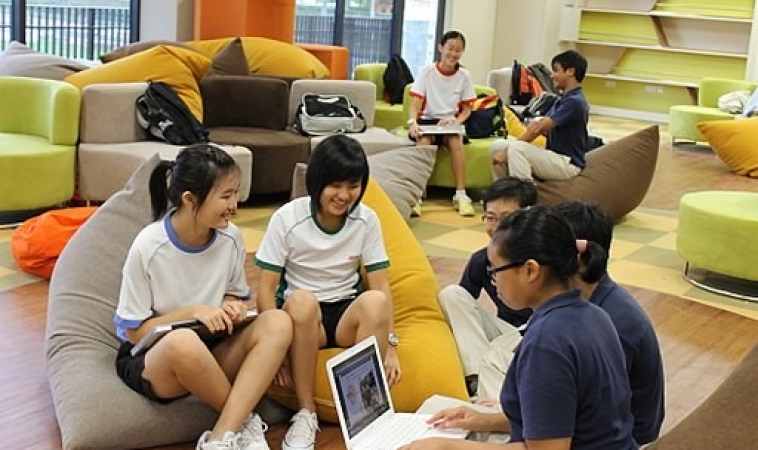 Ever since the mobile technology became extremely popular, students have witnessed a significant change in their lives. They no longer have to visit libraries and look for important information. Instead, with the help of their smartphones, they can access information instantly.
The world of smartphones and mobile apps has had a huge impact on the lives of students and teachers. For example, most classrooms have a Whatsapp group where the teachers and students communicate with each other.
Image Credits: Wikimedia Commons
Moreover, the education board is coming up with different techniques so that they can teach students in a better fashion. One such technique is to use mobile apps in the education sector. Here are five benefits of using mobile apps in education:
Better communication between teachers and parents
One of the biggest problems with the traditional methods is the lack of communication between parents and teachers. Parents need to be aware of how their children are progressing in their academics and extra-curricular activities. With the traditional methods, parents have to wait for the school to send the progress report every semester.
Instead, mobile apps will make the process more straightforward as the school can directly communicate with the parents. For example, parents can see the progress of their children on a daily basis. Also, the teachers can let the parents know about the strengths and weaknesses of students.
When the school wants to take the students on a field trip, mobile apps can inform the parents directly. It becomes straightforward for the school to send all the details regarding the field trip through mobile apps.
Enhances services of schools
The services provided by schools can be enhanced considerably with the help of mobile apps. Most of the time, when parents have to pay the fees for their students, they have to wait in line. However, with mobile applications, the whole process can be completed in a couple of minutes within the comfort of their homes. It will be much easier for parents to keep track of their children as mobile apps can update attendance on a daily basis.
Mobile apps can also send the yearly schedule of events to parents. That way, parents know what is going on in school every day. For example, if there is a talk held by popular individuals, the parents will get know about it instantly.
Higher interaction and engagement of students
Mobile apps improve the interaction and engagement of students as they come with a variety of features. As every student is different, not everyone will be able to grasp certain concepts of their subjects. However, with mobile apps, the process of learning becomes engaging and interactive. For example, rather than having to go through a myriad of textbooks to understand specific topics, mobile apps can make it easier through interactive learning such as games. Just imagine if students get to know about concepts by playing simple games.
Similarly, students can find material for their subjects with the help of search function in mobile apps. As students prefer to read online articles, they can study from e-books than traditional textbooks.
Improved individual learning
In most classrooms, there will be at least 20 – 30 students per subject. Even if the teacher is incredible at imparting education, he/she will find it difficult to focus on all the individuals. On top of that, they have to teach children within a specific time frame. As every student rate of learning and understanding are different, not everyone will be able to grasp the subjects within the given time frame.
Similarly, teachers have limited time to cover all the topics within a semester. As a result of this, students may not be able to keep up with what is going on at school. However, mobile apps can overcome the rate of learning and understanding as students can go at their own pace. Also, students can use their free time to learn and stay up-to-date with the school.
Learning tools become easier to access
The best thing about mobile apps is that students can access them from anywhere in the world. Whether they are at home or in a different country, they can always use mobile apps. As the tools are portable, students can learn when they are comfortable. They no longer need to carry around huge textbooks or scribbled notes.
On top of that, mobile apps also work even when there isn't an internet connection. Just imagine if students could take mock tests despite not having an internet connection.
These are the five ways the education sector can benefit from using mobile apps. If you are considering building a mobile app for your institution, why don't you get in touch with Robust Tech House? Our experienced developers will develop an app that surpasses your expectations.
Brought to you by RobustTechHouse
---
Also published on Medium.