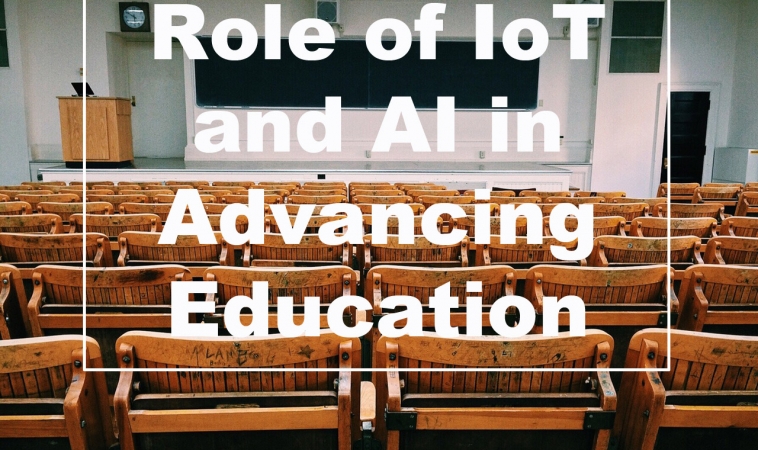 Role of IoT and AI in Advancing Education
Technology has greatly transformed the way individuals and companies operate. The modern world has seen advancements in technology that people could have only dreamed about in the 18th or 19th century. Thanks to innovations like the Internet of Things and Artificial Intelligence, we are being exposed to more opportunities that didn't exist in our world before.
The Internet of things brings about the possibility of everyday devices to be controlled by the internet. While this is an amazing feat in itself, it is only set to increase in scope. The amount of things that people will be able to do simply by manipulating their smartphones and other devices will be astounding. This is not peculiar to the Internet of Things alone, it is the same for other innovations like Artificial Intelligence.
The prospect of computers behaving, acting and thinking like human beings has a whole world of potential. This means that computers will follow a thought process that human beings do. This year alone, Gartner has predicted that there will be a 30 percent increase in the number of devices that are connected to the internet of things, meaning that there will be over 6 billion devices that have joined the revolution of the Internet of things. This figure is only likely to grow in the near future.
With all of this growth, it is only imperative to begin to think about the prospects for this technology rubbing off on other facets of the individual. It is important for technology to be applicable in solving everyday problems that human beings encounter. This is the only way the advancements in technology would hold any relevance.
Education is one aspect of human life that cannot be neglected. The amount of education provided around the world increases the possibility for more individuals to come up with more world-changing innovations. While Internet of Things has a lot of applications for the business world, it still holds a lot of prospects for education. There is likely to be an increase of the use of IoT in the near future because of the growth of the internet.
Since a lot of people worldwide now have more access to the Internet, it creates the possibility for an unending world of opportunity. There is the prospect for the growth of blended and online programs on the educational landscape. A lot of classrooms will also begin to use this form of technology as a tool for teaching students in the near future.
With all of these prospects, it is important to identify the role that IoT has to play in advancing education. In this article, we will be taking a look at how IoT stands to be a reliable tool for advancing education in the near future.
The Role Of Internet of Things And AI In Advancing Education
The major role that the Internet of Things has to play in advancing education is engaging students. Every year, teachers are striving to come up with innovative ways to teach students without having them lose interest. With the internet of things, there is the prospect for a classroom that is more engaging and interactive. This technology creates a fresh way for teachers to connect to students. It serves to make lesson plans a lot more engaging, and gives even more innovative ways to pass ideas to the students.
The development of ECG sensors for monitoring how well students are assimilating and comprehending what they are taught is definitely a welcome advancement. With these forms of technology, we will begin to witness a more efficient classroom environment where teachers have greater control.
Also, there is the possibility of tracking student's ECG patterns in recording attendance. This does not have to be used for just the classrooms alone, and can be implemented for gym and other social development programs in education.
There is also the use of social media platforms to create discussion forums that are healthy for students. With mobile learning, students now have the ability to access the internet anywhere and at anytime. This helps to create an environment where students constantly learn with ease on a daily basis. With the help of interactive eLearning modules, students can assimilate faster and learn a lot more. Students can therefore take their lessons on any mobile device or even tests, and lecturers can mark and provide feedback instantly online.
Internet of Things, AI And The Massive Potential For Education
The major proponent which makes Internet of Things and AI a very attractive technological inclusion for education is the fact that it promotes real time learning. With the help of this and other actionable insights, lecturers can monitor student's performance on the go. Students will then be encouraged to bring their wireless devices to the classroom, as opposed to getting reprimanded for it.
Operational efficiency will be greatly improved with the help of these technologies. In an environment where several devices are connected, educators can work on creating a more dynamic classroom experience. In a situation where attendance is supposed to be recorded, this will be made incredibly simple by giving students wearable devices that have the ability to track ECG patterns. There is also the possibility for EEG sensors to be used for monitoring the cognitive abilities of students while they are attending lecture.
With all of these potentials for Internet of Things and Artificial Intelligence in the educational sphere, the possibilities for learning are endless.
Brought to you by the RobustTechHouse team.  If you like our articles, please also check out our Facebook page.