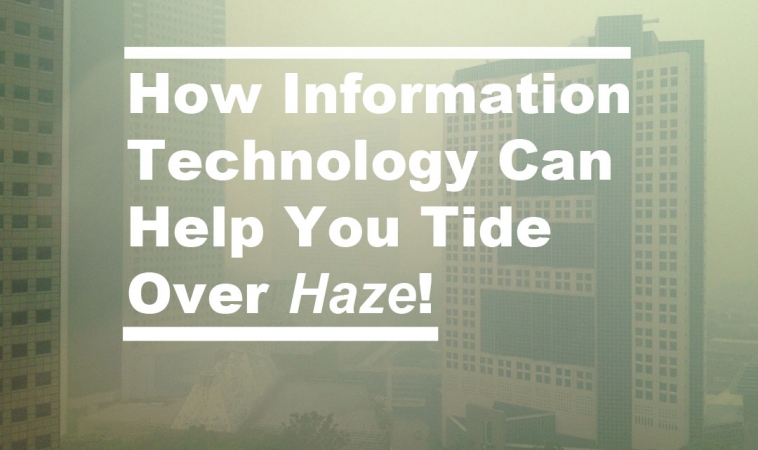 How Information Technology Can Help You Tide Over Haze!
As the annual crisis caused by burning Indonesian pulpwood plantations draws near, Southeast Asia is preparing itself to tackle and withstand the damaging effects of air contamination. With harsh haze and barbed smoke covering most neighboring regions of Sumatra Island, the air quality in Singapore has progressively decreased to the point where pollution levels have reached unhealthy degrees. As a result, outdoor activities have been significantly limited during this trying time. Luckily, technology can come to our aid and help work out some of our inconveniences. If you can't go out for the next few days, here are a few useful apps that can make your "home leave" much easier.
myENV
If you want to assess how bad the haze is in Singapore and keep up-to-date with what's going on outside, you should definitely download myENV. Featuring weather information, access to real-time updates for the latest NEA headlines and events, as well as rainfall notifications and air quality information, the mobile app allows you to stay informed about the current situation and also helps raise awareness about this public health issue. The software allows you to check out listings of vector control agents and food caterers, dengue clusters and hawker center locations.
Haze@SG
If your distrust of government agency means looking for something unrelated to NEA (National Environment Agency), then make sure you download Haze@SG to receive access to hourly Pollutant Standard Index (PSI). Using the app, you will be able to check the air quality by looking at the PM 2.5 concentrations and average levels during the course of an hour. You will also receive alerts when the PSI reaches a potentially damaging level, as well as be able to share this information with friends and family.
Water Drink Reminder
Need I say more? This app was designed to keep you on track with your water consumption every day and sends daily notifications every 2 hours to remind you to stay hydrated. Featuring both metric (ml) and standard (oz) units, the mobile app allows you to keep tabs on your drinking using customizable cups and determines the amount of water you need daily according to your weight, sex and age, syncing information with S Health and Google Fit. Requiring only a Google account login, the app also allows you to track your progress through schedule logs and charts.
RingMD (Telemedicine)
Don't want to take the risks of sucking in those filithy air when making your way to the doctor: Telemedicine. Allowing you to directly contact doctors and have video-consultations with expert physicians from all around the globe, RingMD is a free mobile app that you can use for home-based healthcare. If you have any minor ailments or health conditions that need special attention, but don't have access to a hospital, this is your most reliable choice. Allowing you to initiate conversations, settle appointments and even have one-on-one consultations, the program also features an informative Q&A regarding various medical issues and healthcare policies. Before your appointment is due, you will receive confirmation from your chosen doctor and will have the payment securely collected from your account.
RedMart
If you want to stay in and have food packages or toiletries delivered directly to you, then RedMart is a must-have! Designed with a user-friendly interface and easy-to-navigate product catalogues, the mobile app has a wide variety of health, nutrition and personal care items, that will cover most of your basic needs. Featuring thousands of deals and high-quality products, here you will find anything from household necessities and beauty items to fresh fruits and veggies, frozen goods and home cooking ingredients. With free delivery options available, you can carry out safe transactions via credit card and PayPal.
Whether you want access to Singaporean weather and air quality, you want to stay updated on the haze levels, you require an urgent medical appointment or you want some food delivered, these apps will ensure that you have everything you need to undergo the most recent bout of pollution without too much difficulty and also keep you informed about the whole situation.
Brought to you by the RobustTechHouse team.  If you like our articles, please also check out our Facebook page.