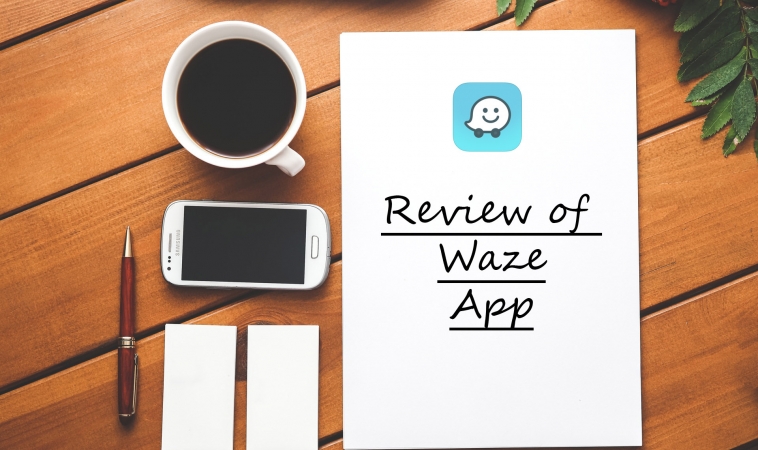 Review of Waze App
Your navigation screen is more important than you think – a reliable transportation and maps application will not only help you avoid hectic traffic jams, but will also save you gas money and cut down on pollution. One of the most ingenious, high-tech apps, widely-used for transportation is Waze – a community-based navigation tool that allows drivers to register and distribute real-time road information. Intuitive and oftentimes more accurate than the notorious Google Maps, the software has significantly grown in popularity over the past few years, both amongst Android and iOS users.
Most GPS apps rely on algorithms and information stated by city officials and authority figures, only providing basic directions, estimated time and occasional traffic updates. What distinguishes Waze from everything else on the market is the real-time update based on details provided by other drivers. As a user, you not only have the ability to report traffic, road closure, unmapped areas and gas prices, but you also receive similar information from millions of other users. These extensive data points are then processed and turned into accurate maps and updated road info. Consequently, you are notified via pop-ups about slow traffic, speed cameras and police presence, as well as regarding incidents on your chosen destination route. Featuring a complete base map for the United States, France, Germany and the United Kingdom (among many others), the app has garnered almost 50 million users as of June 2013.
Designed with a clean, basic user interface that allows easy navigation and reduces battery consumption, Waze allows you to send directions, share time of arrival and location with your contacts, as well as receive real-time reminders and traffic updates. You will also be informed about police proximity, accidents, road closures, landmarks and house numbers. In addition, the app registers and remembers your frequent routes, preferred streets and commuting hours and automatically reroutes in accordance with road conditions. What makes this app unique and so popular is its accuracy – traffic jams, extensive construction sites, turn restrictions and one-way streets are always accurately represented.
Registering something that isn't on the map and marking road blocks or traffic jams requires a simple tap and earns you Waze points which you can use to buy character items and acquire better routing. The app also features live maps, detailed voice-guided navigation, directions about low-cost gas stations nearby and information on local areas and stores. You can also use Waze with your family and co-workers, as well as share your location with phone contacts. For instance, you can tap the Send ETA option and let your friends know how long it will take for you to arrive at your destination. You can also sync your calendar and contacts with the app, add Facebook friends and see other users' ETA when driving to the same location.
When it comes to drawbacks, there are a few features that could be improved – although the maps are easy to read and navigate through, the Report and Menu buttons of the app are very small and placed in the lower edges of the screen. Tapping on these buttons opens up pop-up menus with more options, making it difficult for drivers to choose a destination. The app also displays several pop-up ads on different businesses and stores near your location. However, this only happens if your vehicle is stopped.
Pros & Cons
Pros
Real-time traffic updates and information on road closures and police traps
Live maps and automatic rerouting
Option to sync contacts, calendar and add social media friends
Bookmarking commuting hours and preferred routes
In-depth, community-based information on weather and traffic
Notifications about nearby low-cost gas stations
Cons
Pop-up ads
Slightly difficult to navigate Menus
Whether you're looking for an app that can get you from point A to B, you want to save up on gas or you're interested in making your daily commute hassle-free, this software is one of the most efficient, comprehensive traffic apps currently on the market. With millions of downloads worldwide, Waze is not just a basic GPS navigation tool, but a far-reaching online community dedicated to preventing road hazards and ensuring safe driving. If this sounds appealing to you, then give the app a try and download it on your Android, iOS or Blackberry.
Brought to you by the RobustTechHouse team. RobustTechHouse works on mobile app development projects and eCommerce & web development projects. If you like our articles, please also check out our Facebook page.