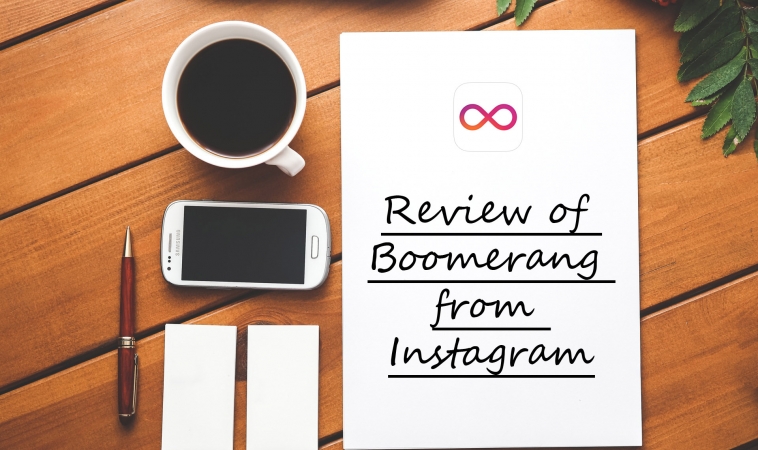 Review of Boomerang from Instagram
Since the launch of its mobile app in October 2010, Instagram became the new social network to rival Facebook and has grown considerably over the past few years. Surpassing its mainstream competitor Twitter, the photo-sharing app has over 400 million monthly active users, with 75% of users living outside of the United States. Although it is well-known as an effective brand-building tool, Instagram owes its popularity primarily to providing an easy-to-use social sharing platform for friends, family and like-minded people across the world. One of its most successful recent endeavors is the introduction of the user-friendly app known as Boomerang, Instagram's fourth standalone software after Bolt, Hyperlapse and Layout.
Created by a small group of skilled Android engineers at a hackathon, the mobile application can generate mini videos which are then played forward and backward in a loop. Before Instagram pictures, Facebook videos and Vines took over social media, GIFs were the shareable format that monopolized the Internet. What Boomerang brings new to the table is the ability to transform ordinary moments into fun and unexpected videos that tell a compelling visual story. Featuring an HD video loop in which the front and back facing camera photos are stitched together, the app allows you to share your content on both Instagram and Facebook.
You can start creating videos as soon as you download the software, without any sign-up or login requirements. You start directly on the camera as a full-screen viewfinder immediately appears when you open the app. The user-friendly interface only includes 3 simple buttons – the shutter (bottom center of the screen), the flash (top right) and the flip-cam symbol (bottom right). After selecting either the normal angle (facing outward) or selfie mode, all you have to do is tap the shutter button and five shots will be captured within the length of a second. The video is also saved on your camera roll and can later be shared from there, or directly from the app, on social media platforms. You will also be shown a preview of your "Boomerang", which is the final version of the short burst of photos joined into a single fluid image.
The infinite replaying video created by Boomerang is then sped up on Instagram so that the back and forth loop condenses into about a second. The simplicity of the app is what makes it so accessible and widely-popular, but it's also the reason why Boomerang isn't necessarily a decisive, must-have app for Instagram users. Either way, the mobile application is a fun and useful tool if you're interested in capturing exciting moments with your friends and family.
Pros & Cons
Pros
Mini looping videos using the back and front camera
A single tap required to shoot a series of pictures
No login or account necessary
Automatic integration of pictures into an infinite looping video
Social media sharing options (which provide editing tools for your content)
User-friendly, uncluttered interface
Cons
Occasional glitches in the video
All in all, Boomerang is perfect for creating fun, engaging content to share with your family, co-workers, friends and Instagram followers. The app is extremely easy to use and navigate, offering a much richer experience than that of standard animated GIF images. Moreover, the short time window of each video urges its users to go outdoors and explore new locations or improvise and be inventive in order to create intriguing and original content. So download the app on your smartphone for free and make your very own Boomerang today!
Brought to you by the RobustTechHouse team. RobustTechHouse works on mobile app development projects and eCommerce & web development projects. If you like our articles, please also check out our Facebook page.