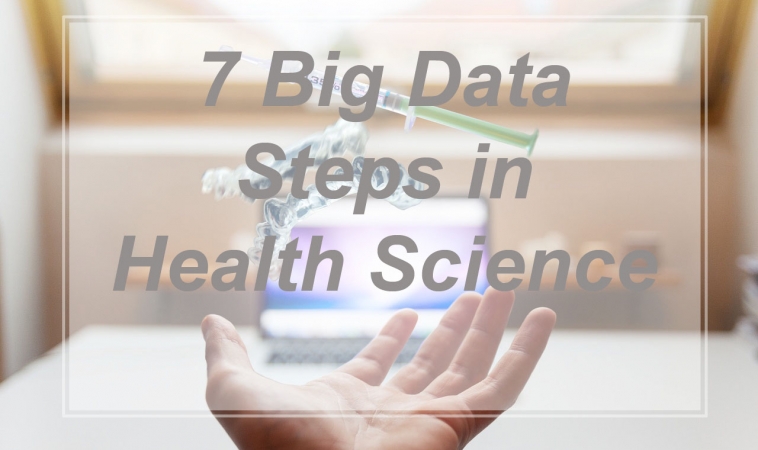 7 BIG DATA Steps in Health Science
Big Data technology is having a lot more real world applications than we could have ever envisaged. Apart from its applications, the mere possibilities that this technology brings is simply fascinating. Big Data has effects on the financial sector, economy, technology, and now perhaps even health. This would definitely be a welcome stride, as health issues remain at the forefront of human concern.
There are millions of health cases worldwide on a yearly basis. When you go to the doctor to investigate a health problem, he has only a few minutes to completely examine the patient and make a decision on what form of medication or procedure should be employed. However, there is a way that your physician can not miss a single thing, and this is with the help of big data. Research and Development costs continue to be on the rise, and humans are getting to live for even longer these days, but big data is playing an immense part in all of this, and it may even be the key to reducing the investments needed to keep humans alive. In this article, we would be analyzing how big data does this.
7 Big Data Steps in Health Science
When looking at the part that big data has to play in health science, it is important to understand how big data works. An overview of big data would bring the realization that it encompasses 7 steps. These steps include:
Sources: Information is everything, and it is very important to identify what the source of information is. For big data, the data source for health information is our body. Where a human being is, what he eats, the activities he engages himself in. All of these can provide reliable information relating to health information for a patient. If you are sitting or standing, there is data that would be processed accordingly. Also, data like your pulse rate, blood sugar and cholesterol levels and even your blood pressure would provide valuable information for doctors to make better decisions.
Collection: The collection of data is just as essential as its provision. Thanks to big data, there is the use of implants, sensors and even our mobile devices to collect health information on an individual. This data can be collected by the second, hourly or even daily. Data is not collected all once, but is aggregated over time to provide valuable information concerning the health of an individual.The culture and physical behavior of an individual would also provide valuable information.
Algos, Models and Artificial Intelligence: The data that is generated pertaining to health of an individual is fixed into a model, which is a human representation of the health experts understanding of health issues.This model then works hand in hand with algos and artificial intelligence automation processes, predictions and forecasting. These models would be useful in containing the spread of cancer or even viral outbreaks. It can even be used to prevent the reaction from a drug or a surgical procedure. This model would be analyzed and developed upon by health experts by identifying the trend in past health events, and people who previously had such health concerns.
Options: After data is aggregated, and a forecast has been made, it is possible to identify the options available to the patient with this technology. If there is a form of advanced artificial intelligence, it is possible to rank the options available to the individual and health practitioner. It can rank these options in terms of effectiveness, cost and other useful parameters. in order to get the best possible decision, the health experts would have to interpret the results gotten. This means that health experts would have to understand how big data works, and how to apply it to health science.
Decision: Decision making may perhaps be the most complex part in health cases. This technology would help the health experts make the best decisions, and follow the most appropriate lines of action for a health condition. They would need to interpret the results gotten from the models, algos and artificial intelligence.
Methods: There would also be the establishment of processes, orders and schedules if this technology is adopted for health practices. This would be necessary in order to meet a particular set of ethics or regulatory statutes.
Measurements: Another step for big data in health science lies in the collection of measurements before and after the treatment of patients. This is used to analyse how well a patient responds to treatment, whether short term or long term effects of medications are still present.
Brought to you by the RobustTechHouse team.  If you like our articles, please also check out our Facebook page.
---
Also published on Medium.