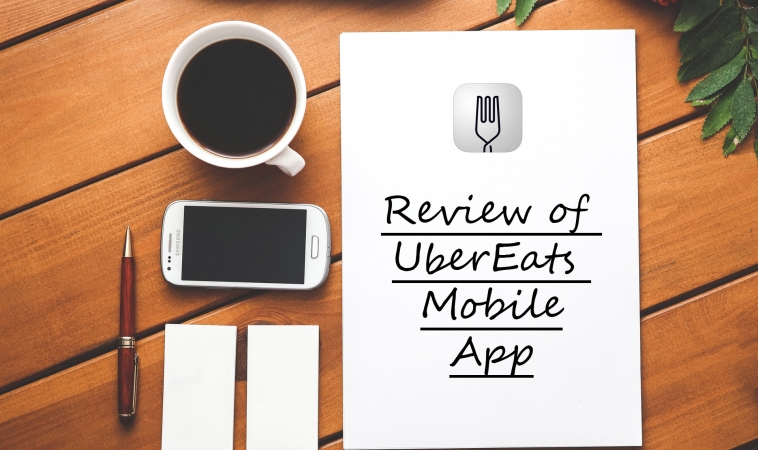 Review of UberEATS Mobile App
If you're familiar with life in the city, then you know how hectic your day can get and, more importantly, how hard it can be to find the time to quiet down for a meal. Oftentimes, you don't get more than a few minutes' worth of a break and you have to make the most of it. Other times you have to skip lunch altogether because a one hour delivery is simply not practical. For those of you who struggle with eating on the go, there's a brand-new mobile app developed by Uber that has also been recently launched in Singapore, meant to help you with finding a meal in time to fit your busy schedule.
After the astounding success that came with Uber's transportation mobile app, the company flaunted its assets in a different domain and ventured to crack a more competitive business than taxis – food delivery. Devised by a team of resourceful designers and researchers, the new application is now available in Australia and the US and has slowly but surely made its way on the Singaporean market as well. In order to retain the simplicity that consecrated its brand, Jason Droege, Head of UberEverything, decided to break off UberEATS into an app of its own, which can more efficiently tackle the challenges of meal-delivery and ensure reliability for its customers.
Working with over one hundred top-notch restaurants and diners, Uber's food delivery system brings exquisite local cuisine to your doorstep in a matter of minutes! If you've used quick meal apps before, then you know you have to wait at least an hour for your dish to actually reach its destination. However, UberEATS will have food from your favorite restaurants delivered wherever – at home, your office, workplace or gym – in just a few minutes. This is due to the app's exclusive Instant Delivery feature, which allows you to choose a signature meal and have it at your doorstep in 10 minutes or less. If you're interested in a specific dish, then you can skim through the company's network and enjoy your order in 35 minutes tops.
Featuring full menus, an extensive selection of local cuisine dishes and curated meals, this mobile app won its customers over by offering guaranteed delivery within 30 minutes and not charging any fees whatsoever for an introductory period. In order to make this type of rapid transportation work, UberEATS has devised logistics and a system different than the one used by regular food delivery services. Instead of dispatching several couriers to local restaurants, Uber has the Instant Menu inventory brought directly to a central holding facility every morning. This means that your order is already pre-made and brought to you via a network of bicycle and moped couriers. This type of on demand food service is particularly useful for those of us who don't have the luxury to spend an hour at lunch every single day. If you're a parent, you'll also appreciate the timely delivery, because you know it's a game changer when you have little hungry children screaming by your side. Either way, if you're looking for quick, delicious meals, UberEATS is your best bet.
There is a downside when it comes to this application – and that is the fact that the selection available for the Instant Delivery feature is not necessarily very diverse. Some customers report that, although the transportation is quick, more added variety to the food options would definitely be a bonus. However, you can customize your order if you have any allergies or food sensitivities by adding special instructions for your chosen restaurant. In addition, if there are any issues with your purchase, you can contact the support team using the mobile app. There are also exclusive discounts, which you can get after accessing the promo code by tapping on the hamburger icon at the top left of the app and then selecting the "free food" option.
Pros & Cons
Pros
User-friendly interface
Extremely quick delivery time for pre-set meals
Customizable orders from your favorite restaurants
Reasonable delivery time for specific dishes
Browsing network for placing orders
Final order review and feedback options
Cons
Limited assortment of dishes for Instant Delivery feature
All in all, the highlights of this app offer simplicity and accessibility and make UberEATS unique on the current meal-delivery market. Whether you're interested in a daily service that can ensure you get quick lunch for you and your co-workers or you want to enjoy savory local cuisine dispatched within a reasonable amount of time, this application only requires a simple download and a drop-off location in order to have your next meal prepared and delivered wherever you are.
Brought to you by the RobustTechHouse team (iOS and Android Mobile App Development).  If you like our articles, please also check out our Facebook page.