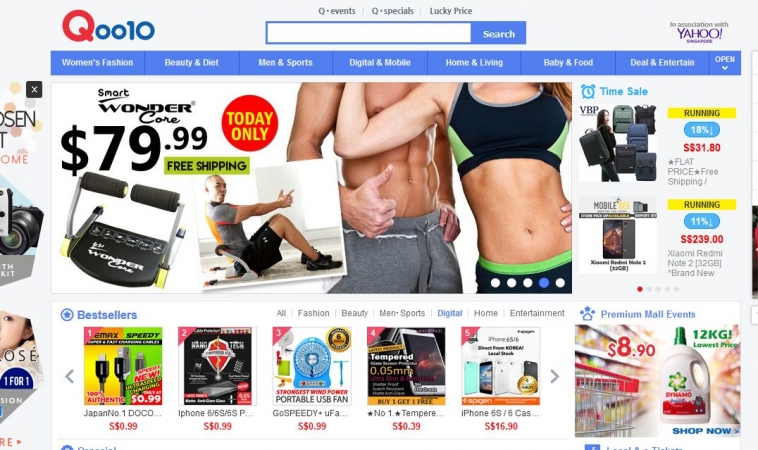 Mass Market Qoo10 vs Upmarket Lazada
This article is contributed by Ong Kai Kiat. He is a professional freelance writer who enjoys the process of discovering and collating new trends and insights for an article. He adds value to society through his articles especially those related to finance and technology. He is reachable at ongkaikiat86@gmail.com
– E-commerce is the new wave forward for shopping as the recent Alibaba success has shown boosted by mobile app proliferation. Structural weakness can be e-commerce strength.
– Qoo10 targets the budget conscious mass market while Lazada positions itself with higher end products. eBay and Rocket Internet are behind Qoo10 and Lazada respectively and both have prominent institutional investors.
– There are still much untapped potential as seen by Alibaba sales of US$14 billion in 1 day on 11 November 2015.
Alibaba announced the arrival of e-Commerce with its listing on the New York Stock Exchange. It raised $25 billion from investors which valued the company at $230 billion and that made it bigger that insurance giant AIA and social networking giant Facebook.
Turning Weakness Into Strength
Today we are seeing the maturity of e-commerce but it started decades ago and its future did not seem so bright. Jack Ma, the Chairman and Founder of Alibaba related how he was rejected by early venture capitalist in a recent APEC conference as reported by TechInAsia:
"Fifteen years ago I was talking with venture capitalists, hoping that I could find somebody to invest in Alibaba. They said: in China don't even bother talking about ecommerce, you guys don't have the business infrastructure for it."
This reminds me of the story about how an American executive saw no business opportunities in Africa because no one wore shoes but another American executive saw countless opportunities. It is a matter of perspective. Your weakness can also be a source of strength. This is how Jack Ma turned China's weakness into Alibaba's biggest strength:
"Precisely because China's business infrastructure was poor back then, and because in China we didn't have this and that, when the internet came we used the internet to really mature and complete the business infrastructure. In America you've got Wal-Mart and retailers like that, so in America ecommerce is dessert. In China, it's the main course."
While this is the case in China 15 years and its top tier cities have progressed, this is the case for much of Asia today. According to the recent interview by the EDB, the combined e-commerce market for South East Asia is worth $7 billion and they have relatively low penetration rate.
There are numerous second and third tier cities in Asia that do not have established brick and mortar shopping malls. For youngsters that are growing up in these cities, they are likely to experience online shopping on their smartphone first than physical retail outlet. E-commerce attracts the young as they offer goods and services at a lower cost than brick and mortar stores for the budget conscious.
Global Growth Potential
This represents a great opportunity for online marketplace to grow and thrive. For this e-commerce company, Singapore represents an important market as it has the highest spending capacity per capita as seen below.
Source: AsiaBriefing.com
In terms of sheer potential, it is not surprising that China and India leads the pack.
Source: AsiaBriefing.com
The table above serves to put into perspective the market potential of e-commerce marketplace globally. The growth as you can see is exponential.
Mass Market Qoo10 & Upmarket Lazada
There are 2 leading e-commerce players which we would be analyzing here today. Both players are backed by established parents with deep pockets and experienced in establishing e-commerce companies.
Qoo10 resembles the bustling night bazaar that you can see around the world that caters to the masses. Once you enter into their site, you are bombarded with thousands of advertisement announcing various promotions, discounts and other good deals.
Source: Qoo10
Lazada is the exact opposite of Qoo10. Lazada reminds me of the online version of the upmarket and popular mallParagon located in the middle of Orchard Road.
Source: Lazada
My first impression of Lazada is that it is a lot less cluttered than Qoo10. I purposely captured the screenshot with both sides to show that there are no advertisements there and to contrast it with Qoo10. I believe that this is a deliberate strategy to construct an upmarket image for Lazada.
Secondly it tried to replicate the online version of a physical mall with different 'floors'. As with all malls, the most profitable items are placed on the first place when they get the most visibility and it is unsurprising that electronic gadgets such as iPhone is listed there followed by other big ticket items such as jewelry and watches.
iPhone on Lazada, iPhone Casing on Qoo10
These are the big ticket items that would drive consumers online. For instance, Lazada offers the latest Apple iPhone 6s (128GB) for just $1328 and Apple is selling it at $1558 on its site. Lazada's client just saved $230 or 14.7% off his bill for the exact same model. As for Qoo10, it is not even selling the latest iPhone 6s at the point of writing. Qoo10 is the e-commerce retailer to go to if you want cheap phone casing and frying pans. For the high end and big ticket items, visit Lazada.
Besides offering a wide selection of cheap consumer goods, Qoo10 poaches on the territory of deal sites such as Groupon and travel sites such as Expedia. It provides a listing platform for travel agencies to promote their heavily discounted travel deals once a critical mass has been reached. This is the operating concept of Groupon.
Consumers can also book their local and overseas hotels there with significant discount. This is the mainstay of travel booking sites like Expedia and Booking. In other words, with the exception of high end market, Qoo10 has its paws on any profitable ventures that allows it to leverage it online platform and scores of budget conscious followers.
Customer Review
Then there is the burning question yet to be answered. Is cheap the same as good? Nobody wants to buy a lemon because even if they managed to get a refund (not guaranteed), it is a waste of time and time is money.
So after the product description, both Lazada and Qoo10 have their own dedicated space for client review. Previous buyers are encouraged to give their feedback which exposes sellers to the wrath of buyers if they dared to sell shoddy products. Bad sellers are naturally whetted out over time.
In terms of review, Qoo10 is far more impressive than Lazada. Qoo10 clients are a lot more responsive in their after sales review than Lazada. For example, the exact same Amazon Kindle [Qoolo @ $119, Lazada @ $229] gathered 3110 customer feedback on Qoo10 while there are 0 feedback on Lazada.
Source: Qoo10
Source: Lazada
Online buyers have to trust Lazada's rating of the seller before deciding their purchase. The other advantage of buying from Qoo10 is that it allows you to spread out your payments from 3, 6 ,12 months by installment if they pay from their DBS or UOB credit cards with 0% interest.
Moving Behind The Scenes
Next we move behind the scenes to look at the backers behind these 2 e-commerce giants. Rocket Internet is the German Internet company behind Lazada and it is also behind other e-commerce success stories such as FoodPanda and Zalora. Rocket Internet is not shy about replicating successful business model and it has openly positioned Lazada as the Asian version of Amazon.
According to Cruchbase, Lazada has risen over US$710 million in 6 rounds of funding from 9 investors. Temasek Holdings is one prominent investor which pumped in $250 million in November 2014.
Source: TechCrunch
Lazada has seen expanded from Malaysia, Indonesia, Thailand, Vietnam, Philippines and Hong Kong.
The parent company behind Qoo10 is Giosis. This is the joint venture between eBay and Gmarket founder Mr Ku Young Bae. According to CrunchBase, Qoo10 raised a modest US$82 million from 1 round of funding from 6 investors and SPH is a notable local investor.
Despite its lower funding, Qoo10 is in the same 6 markets (replace Hong Kong with China) as Lazada and has accumulated 17.6 million of shoppers. Notably Mr Young sold the Gmarket branch in South Korea to eBay for US$1.2 billion. Consequently he rebranded Gmarket as Qoo10 for the rest of the markets.
Conclusion
Both Lazada and Qoo10 are rapidly expanding in the region and they are backed with capital as their prospects are bright. Just in case anyone is under the illusion that e-commerce has passed its peak, consider this. Recently on 11 November 2015 or Singles Day in China, Alibaba sold US$14 billion worth of goods in 1 day to its clients globally.
Brought to you by RobustTechHouse. We provide E-Commerce Development services.