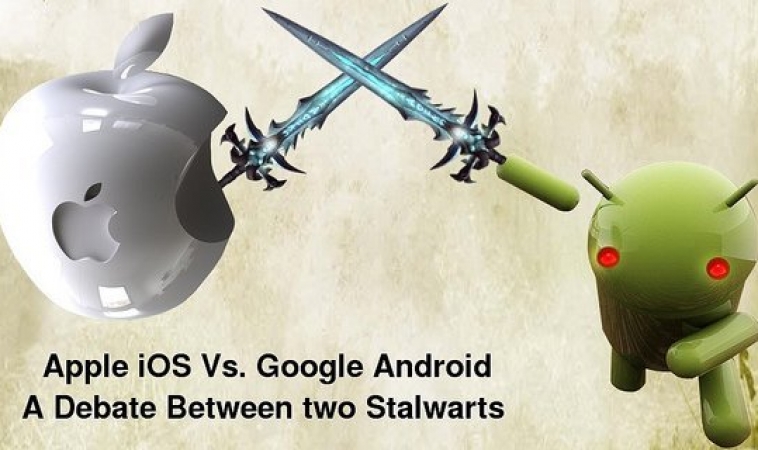 Android Vs iOS Which Platform To Build For First
Introduction
Google's Android and Apple's iOS are among the top smart-phone operating platforms in the world today and there have been several arguments concerning which performs better over the other. The truth is that argument concerning products or services that perform similar functions are always difficult to settle.
The essence of this article is to carefully analyse everything that has to do with Android vs iOS platform starting from demographics to speed, and to market. I'll then conclude with when to start with one platform over the other, when to focus on both, and when to move to the next in this Android vs iOS analysis.
Demographics
Android currently has the largest platform coverage in the world and this is due to the fact that they are able to reach lower income people and emerging nations. iOS on the other hand are mostly used by those with higher annual income, more engagement, higher education levels, and people who do not mind spending more. At the end, even people who can conveniently afford iOS may still opt for Android thereby leading to more increase in its population.
Revenue Models
In terms of revenue, I'll say it depends on the method preferred by both parties. For ad-supported software, Android has a higher percentage; but iOS leads in terms of payments. A recent research showed that Apple earns more revenue for their smart phone software.
Release Cycles
Android is an open source platform but it is unfortunately locked down by carriers and OEMs. This causes it to lag behind iOS in terms of users adopting their latest OS version. This is proven by the fact that about 90% of iOS users are on some version of iOS 8 which was released in September 2014 while less than 10% of all Android users are on Lollipop which was released in June 2014. What this means is that iOS programmers can boldly focus on supporting the newest OS version knowing fully well that it'll still have a broad reach.
Programming Speed
When building any software, programmers take into consideration the speed at which the software can be built. Android software take longer time to build due to Android's operating system release cycles (which has just been discussed), and Android fragmentation. Another factor that affects programming speed is release and approval times. With Apple's approval process, a software can be updated about 3-4 times per month; however on Android, an update can be pushed as much as 3-4 times per day. This means that while iOS software can get to market faster, Android software allow you to get regular updates from programmers.
Cost
Software firms may not be too affected by cost, but a freelancer working from home will surely take into consideration the cost of building software. The fact that android software take about 2-3 times longer to build when compared to iOS definitely makes it more costly. The most discouraging part is that you as a programmer might not make revenue from the project, and even if you do, it'll most likely be a token.
Features
The fact that Android is an Open Source system allows programmers to build their software whichever way they like. It gives them a deep access into the operating system and this feature has its advantages and disadvantages. For example, there was a proliferation of home screen replacements a few years back, including Aviate or Facebook Home; it was later bought by Yahoo. There's also the popular custom ROM on Android which enables users to enjoy using their phones without the stock ROM. These custom ROMs are built by programmers and usually made to be flashier than the original stock ROM that came with the phone.
Making iOS your First Choice
Considering demographics, speed to market, and cost, I'll advise you to start with the iOS platform. In addition, you should be able to learn what's working and what's not working during the first stages of any software. Trying to work with both platforms (iOS and Android) could be very difficult especially with the challenges Android platform pose.
Making Android your first Choice
Before thinking of choosing Android, you have to ensure your target audience is squarely focused on emerging nations, or a section of urban environments, probably where the love for Android is high. You also have to be good in OS programming as it gives you a considerable advantage when building your software to meet a particular hardware or software requirements. Remember that unlike iOS, Android is open source and with more practice, you'll be able to build your software whichever way you prefer.
Working with Both Platforms
Working with both platforms may be difficult for an individual but very possible for well-established firms. You as an individual may still feel you can work with both since you have enough money to fund the project; but except the software is completely easy, you'll definitely need to go through series of iterations before it becomes perfect for your target audience.
Moving on to the Next Platform
The right time to move on to the next platform is after you must have perfected your core software experience in your current platform. Perfection is just one point, you'll also need to have grown to a certain level. You can determine your growth by using market data to confirm that you have truly hit a certain level on your current platform.
Conclusion
Both Android vs iOS platforms are really interesting to work with but you just have to be realistic and choose the most convenient one. With time, you'll surely attain a level where you can work extensively on both platforms without much problems.
Brought to you by RobustTechHouse, a mobile app development company. We also provide services in ECommerce, web design and web development.