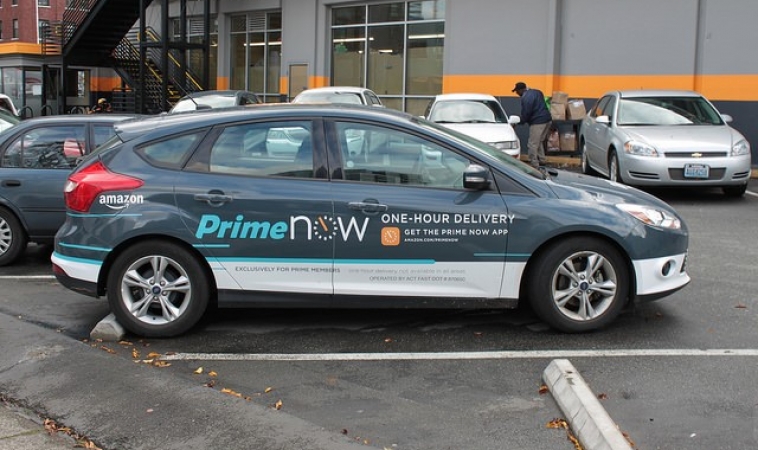 Everything you need to know about Amazon Prime Now
Amazon finally launched its one-day delivery service in Singapore, Amazon Prime Now. All the products you purchase from the Prime Now catalogue has same-day delivery service. Amazon made this a reality by introducing a Singaporean e-shipping platform.
At the moment, Amazon Prime Now is free of cost. However, Amazon will start charging for the membership after some time. If you buy products worth S$40, then they will be delivered within two hours for free. If the total bill is below S$40, then you will have to pay S$5.99 extra for delivery within two hours. If you want the products to be delivered within an hour, then you have to shell out S$9.99.
How is Amazon able to deliver products within an hour or two? Well, Amazon has a new 100,000 sq foot warehouse in Singapore on a lease. At the moment, Amazon is struggling to cope up with the demand of the Singaporean market as the number of orders has gone through the roof.
Image Credits: Flickr
Now pay for ComfortDelGro taxis with DBS Paylah app and QR codes
From 27th July 2017, Singaporeans can pay for their ComfortDelGro taxis using DBS Paylah app and QR codes. Introduced in 2014, DBS PayLah is a mobile wallet allowing its users to pay merchants for their products and services in Singapore.
Even if you don't have an account with POSB/DBS bank, you can use the Paylah app as long as your current bank account supports Fast and Secure Transfers (FAST). If you have sufficient balance in PayLah, you don't have to use your debit or credit card.
Also, DBS/POSB is launching incentives to get more people to use their mobile wallet app. 60,000 customers will get S$15 back if they use the DBS mobile wallet to pay for the ComfortDelGro taxis. 1,000 users will get S$20 if they book and pay for the ComfortDelGro taxis using the DBS PayLah app. Until next year, customers don't have to pay any administrative charges for using DBS services.
Google removes 20 apps from the Play Store for stealing texts, emails and recording calls
Google recently discovered that 20 apps were stealing texts, emails, location data, and recording calls of its users without their knowledge. Before Google got wind of what was going on, 100 smartphones from around the world got affected with by these malicious apps.
ArsTechnica said that these apps exploit a vulnerability in the OS, which gives administrator access to these apps. As as result of this, these apps can circumvent the security measures that are in place in the Android OS. These malicious apps can listen to Facebook Messenger, LinkedIn, Hangouts, and Gmail to name a few. They can also collect data from apps such as Viber, Snapchat, Skype, KakaoTalk, Telegram, and Whatsapp.
The malicious apps can also change the default behaviour of smartphones. They can record VOIP, calls, take photos and screenshots, and retrieve user and device information. These apps infiltrated the Google Play Store by pretending to be utility apps that clean phones.
According to Google, the code used in these malicious apps comes under Lipizzan, a spyware family. The spyware will overcome the security system in place in the Google Play Store. Once unknowing users install these malicious apps, they will get administrator access to smartphones by exploiting a vulnerability. Once these apps have administrator access, they will connect to the spyware's server and begin uploading user data. Luckily, before these apps could infect thousands of devices all over the world, Google found out about it and removed them from the Play Store.
Brought to you by RobustTechHouse.