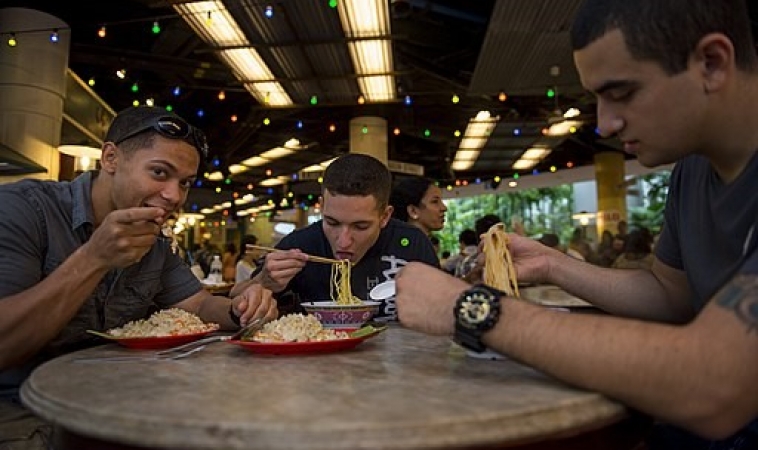 It's a well-known fact that Singaporeans are one of the biggest foodies in the world. When you take a look at the thriving beverage and food industry in Singapore, it's easy to understand why they are doing so well. Also, when you compare the prices of food in other countries to Singapore, you find that it is relatively cheaper in Singapore.
Image Credits: Wikimedia Commons
Due to stiff competition in the beverage and food industry, a large number of food outlets are partnering with mobile apps and offering special memberships, to attract more diners. If you are looking for ways to save money on meals in Singapore, you have come to the right place. Here are four food discount apps every Singaporean should use:
Offpeak
Available on Android and iOS, Offpeak is an app where Singaporeans can save time and money by booking tables in restaurants online. As Offpeak has ties with a large number of restaurants, you should find every place you like to eat on this app. Using your GPS location, Offpeak will show you a list of restaurants that are nearby. Unlike some food discount apps, Offpeak doesn't charge when you want to avail discounts. On Offpeak, you get discounts up to 50%, which is a phenomenal amount of savings!
Sugar
The company behind Sugar is a startup that wants its users to discover new places to shop, eat, and play. Based on your location, Sugar will give you a list of discounts and deals for businesses nearby. Sugar is extremely useful when you are looking for new places to eat. Based on the offers given by Sugar, you will save anywhere around 20% – 50%. You can get more discounts as the app has a skim function, which will lower the price even more. Sugar has partnered with a lot of merchants around Singapore. As a result of this, you can choose from sharing platters, individual meals, desserts and bar drinks.
Entertainer
Entertainer is a coupon book app where you have a myriad of deals for beauty, lifestyle, fitness, leisure, and dining. However, their offers are 1-for-1, which means that you will have to bring someone along to enjoy the amazing dining discounts. You will save 50% when you use Entertainer. Although you have to spend $85 to start using the coupon book, you will save that much money in no time. Also, you can purchase more coupons using the in-app currency, Smiles points. Smile points depend on the number of social campaigns you participate in and how much you saved.
Grabz
Grabz is another food and beverage discount app available on Android and iOS. Grabz gives you exclusive promotions and rewards for restaurants in Singapore. When you select any restaurant, you will instantly get access to the discounted pricing. There is a wide range of restaurants who have partnered with Grabz. The app is also capable of showing you deals and discounts nearby your location on the map. While the basic membership is free, you have the option of upgrading it to the premium membership, to enjoy more benefits and rebates.
Perx
If you don't like carrying all your loyalty cards with you, you should consider switching to Perx. With over 200 merchants, you will get points or stamps, every time you make a purchase from them. When you have enough points or stamps, you can exchange them for free add-ons, toppings, and upsize to name a few. Perx eliminates the need to use multiple loyalty cards. Also, you can like your EZ-Link card to Perx and get additional savings for your trips throughout Singapore.
Save money on meals in Singapore with these food discount apps!
Brought to you by RobustTechHouse