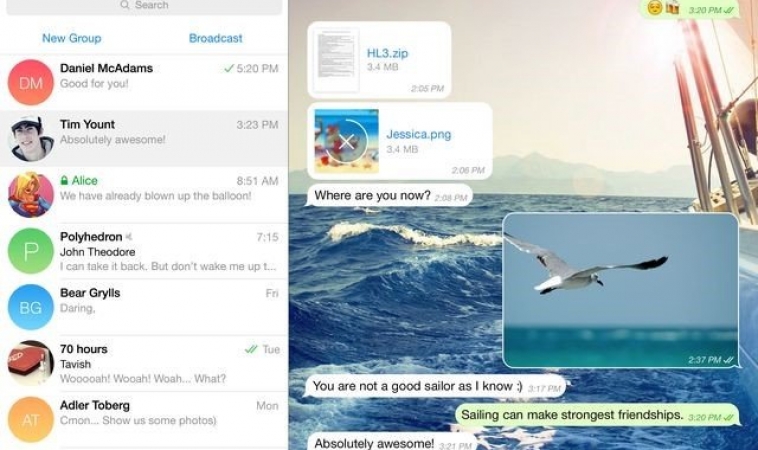 Telegram is one of the most secure free messaging apps available in the app store. Released in 2013, Telegram has come a long way, both in terms of features and security. With over 100 million active users, it is one of the few apps that is a proper alternative to Whatsapp. Let's find out why Telegram is so popular.
Features
The user interface of Telegram is minimalistic and easy-to-use. The developers have made it a point to keep as lean as possible so that even first-time users will feel at home when using the app.
The only other messaging app which can replace Whatsapp is Telegram. Telegram is popular among its users because it is completely free. The developer isn't interested in making any money off the app. You won't find any ads nor will you find a donate button on the app. Telegram one-ups Whatsapp in terms of simultaneous usage as Telegram can be used on different devices at the same time. The limitation for a group size on Telegram is 5,000 at the moment. There are no restrictions on how many photos, videos and pretty much any other file stored on your phone. If you want to broadcast, you can add up to 100 contacts to your list. It is also extremely secure as it uses end-to-end encryption. Security is taken seriously in Telegram as you can start private conversations with your contacts. Telegram won't save such chats and it has a self-destruct timer. You can set the timer accordingly and the countdown starts once the recipient has read the message. At the end of the timer, the entire chat on both phones gets deleted. If you sent photos, videos and other types of files in a secret chat, they will also get wiped out.
Telegram has also another security measure in place in group chats. If there are unknown participants in your group, your phone number will not be displayed. You can secure all your chats using a passcode lock. You also have the option of enabling two-step verification to safeguard all your conversations when moving from one device to another.
Just because Telegram is focused on security doesn't mean that it lacks all the other features that messaging apps have. Just like any other messaging app, you can use stickers and bots. As the platform is open, anyone can design their own sticker packs. The bots add to the functionality of the app. For example, when you type @sticker, the bot will ask you to enter an emoji. Based on the emoji you select, the bot will suggest a sticker. If you like the sticker that was provided by the bot, you can save all related stickers for easier access in the future.
The app is stable and the operating speed is phenomenal. All the messages you sent to your recipient will be received immediately, even if you use secret chat.
The developer released a new update where you can now send video messages to your contacts. If you want to keep your hands free while recording the video message, you just have to swipe up. This gesture will lock the camera till you stop recording. You also have public video messages which can be accessed by anyone in the world. This service is called Telescope and is aimed at users who have a fan following.
You can also make payments through Telegram. The messaging app now allows bots to accept payment in return for goods and services. For example, you can order pizza through Telegram if it is offered by a bot.
Verdict
All in all, Telegram is a well-rounded and free messaging app available in the app store. It has more features than Whatsapp and it is the most secure messaging app. Why don't you give Telegram a try?
Brought to you by the RobustTechHouse team.