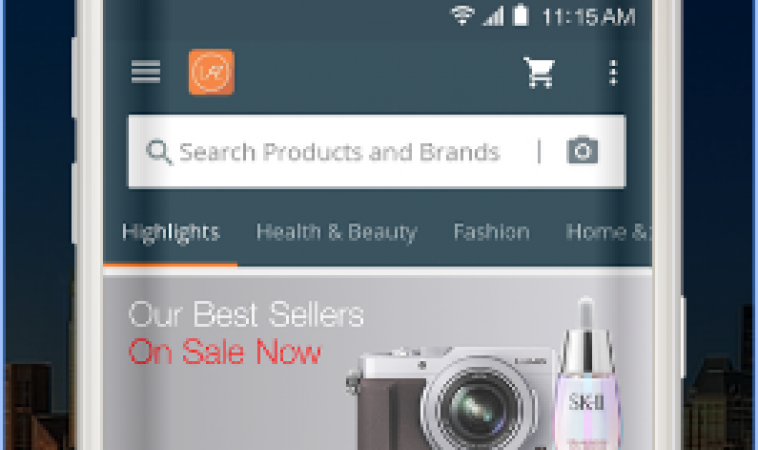 As the world is going gaga over online shopping, companies have left no stone unturned to turn this craze into a business opportunity. After all, everyone wants to reap the benefits of technology, low-priced but superior-quality articles, and convenient checkout processes.
Enter Lazada, the Asia-based shopping and deals mobile application
 Lazada has grown to become one of the largest online shopping destinations in Southeast Asia. Offering a large gamut of products, Lazada is the place to go for surfing various categories such as electronics, beauty and health, lifestyle, fashion and much more.
Lazada helps you find everything on one platform. From camera and smartphones to cosmetics and dresses, Lazada stores everything that a lay shopper would look for. Mostly appealing to the on-to-go shoppers, Lazada is one of the most convenient shopping applications you need for enhancing your online shopping experience
Lazada application
Lazada is available in the form of a smartphone application. You can get an incredible shopping experience by getting everything at your fingertips. You simply have to download the app, browse various product categories and place your order.
The app also allows you to write reviews for other users to view. With exclusive promotional offers and deals, Lazada allows you to get products from different brands such as Apple, Samsung, Xiaomi, Sony, Nike, Maybelline, Lenovo and many others. The application is available for smartphones and tablets, thus making on-the-go shopping convenient like never before.
The Lazada application has the following key features:
Category-wise and brand-wise browsing features
Ability to filter choices by price, popularity, and discount
Product recommendations available
Daily deals and exclusive offers available
Express checkout
Discount coupons available
Ability to track orders
Ability to sync social media accounts
Customer reviews and ratings available
Why shop with Lazada?
One-stop shopping solution
Featuring over hundred brands, Lazada is the ultimate destination for all your shopping needs. However, the platform is yet to become the next Amazon or Flipkart in the e-commerce realm. By incorporating a few additional features and upgrades, Lazada is sure to become one of the most convenient shopping platforms.
Secure shopping
Lazada offers 100% protection to buyers and guarantees that only genuine products are given to shoppers. Moreover, Lazada has a 7-day refund policy in case you have received a defective or unsatisfactory product.
Shop anywhere, anytime
From smartphones to dresses, Lazada has everything for you. You can buy them from anywhere through the mobile application. With a variety of brands and ability to shop from anywhere, you are sure to enhance your shopping experience with the app.
Payment methods
The app allows you to make payments either by cash or through credit cards, bank transfers, and PayPal. You don't have to worry about the security of your transactions. You can also pay once you receive the package, thus allowing you to exercise more flexibility.
Although Lazada is not a phenomenal shopping platform, it is among the best in Southeast Asia. It has already bagged the Indonesia Cellular Award 2015- Best Online Shop App, the Gold Standard, Reader's Digest Most Trusted Brand Award 2014 in the Philippines, and AsiaOne People's Choice Award 2015: Top 3 E-retailers in Singapore.
With its decent collection of products, Lazada is on its way to becoming one of the most popular shopping apps across the globe. Although the collection is not as wide as Amazon's, you can still use Lazada for the convenience it provides while shopping online. By improving the functionality of the app and diversifying its collection a little, Lazada will surely take over the e-commerce realm in the coming years.
Brought to you by the RobustTechHouse team.
---
Also published on Medium.