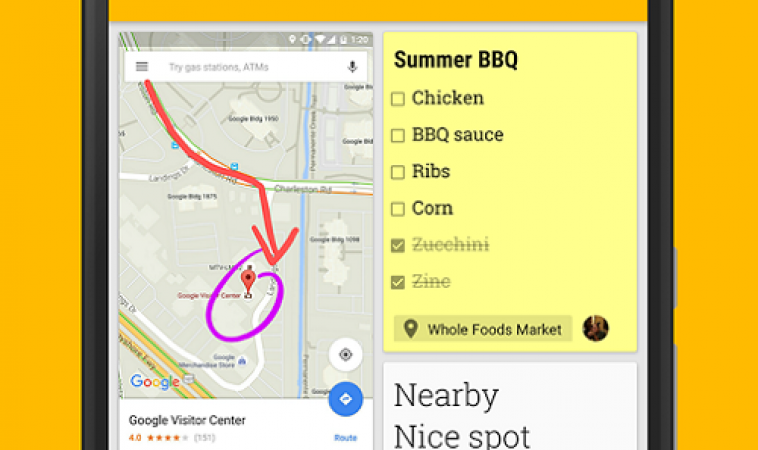 Google Keep is the search giant's answer to Evernote, OneNote, Apple Notes, DEVONthink and every other note taking app available in the app store. Launched in 2015, Google Keep has come a long way, both in aesthetics and functionality. Is Google Keep still a contender against other heavyweight note taking apps or will it be forgotten? Let's take a look.
Features
Before you can start using Google Keep, you need an account with the search giant. When you launch Google Keep, you will immediately notice that the user interface is minimalistic and clean. The majority of the options are tucked away in the side menu, while only the important ones are visible. At the bottom of the screen, you will see 'take a note' option. On tapping it, Google Keep will open a new note. You also have icons to make a list, add a voice note, take a photo and add an image. On the top right corner of the app, you have the search icon and the list icon. On the top left corner, you will find the side menu. In the side menu, you will find the following options:
Notes
Reminders
Labels
Trash
Settings
The default screen for the app is the 'Notes' section. All the notes you save will be displayed over here. Usually, the notes are displayed on the left and right side of the screen. If you don't like this view, you can change it to list format.
To start taking notes, you need to tap on 'take a note' option. At the bottom of the screen, you will see a 'plus' and 'menu' icon. If you want to add a photo or a voice recording or a checkbox, you have to tap on the plus icon.
You can make an additional copy of your note if you are worried about deleting it by accident.  You can also share your notes by copying it to Google Docs. If you took a picture and added it to your note, you can share it through other apps. Google Keep allows you to add collaborators to your notes. The collaborators can view and edit your notes if necessary. To add collaborators, you need to add their email ids.
To make it easier to keep track of your notes, you can add labels to it. Also, you can change the background color of your notes. However, you only have access to eight colors at the moment.
Just like every other note-taking app, you can add reminders in Google Keep. It syncs the reminders directly to your calendar so that you won't forget it. The reminders can either be added based on time or location. You also have the option of making a to-do list. As you finish each thing off the list, you can tap on it to remove it from the list.
All notes that get deleted will stay in the trash for seven days before they get wiped permanently. If you don't want to type a note down, you can always create voice notes. You also have the option of archiving your notes.                                                                                                                                                                                                                                                                                                                                                                                                                                                                 Verdict
Overall, Google Keep is still relevant in 2017 as it comes with a lot of handy features. It is extremely easy to create a note and you can set it as a reminder based on time or location. You can add pictures and voice notes to your notes. You can create a to-do list, change the background color, add collaborators, and you share it with your colleagues and friends.
If you want a note-taking app that is lightweight but has all the important features, give Google Keep a shot.
Brought to you by the RobustTechHouse team.