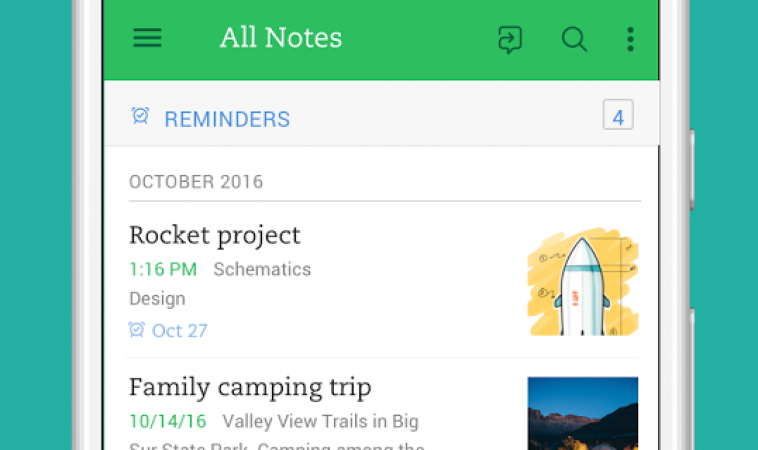 Evernote was one of the most popular note-taking apps in the world. Recently, the developers of the app released an update that added a few features to its long list of features. Does Evernote have what it takes to continue being one of the best iOS apps? Let's take a look.
Features
Evernote is free to download from the app store for iPhone, iPad, and Mac devices. To use its services, you need to create a free or a paid account. The free account allows you to sync your notes across two devices and the upload limit on a monthly basis is 60MB. If you opt for a paid account, you have to pick between Plus, Premium, and Business. For Plus, you need to pay $3.99 a month or $34.99 annually for a storage space of 1GB. All files can have a maximum size of 50 MB. For Business, you either have to pay $12 per user per month or you have to pay $120 per user per year.
The new update for Evernote made the note-taking app offer excellent performance and a solid service overall. The type-ahead search option finds similar words within a couple of seconds due to the improvement in performance. You also have the option of searching for words in an image. To do this, you need to take a picture of a page from a book or a whiteboard. If you have the premium account, you can search for words in PDF and all the office documents you uploaded on to Evernote.
You can either allow Evernote to sync automatically or manually across all your devices. If you have the premium version, you can digitize your business cards by taking a picture of it. You can also turn any note into a presentation by connecting your device to an Apple TV. You can share your notes with anyone by sending them a link through a text message, copying it and sharing via Whatsapp or any other similar messenger or you can email it.
There are a lot of visual changes in the user interface of the app. If you have been using Evernote for a while, you will notice that the new update looks like one it's older edition. You no longer have the green landing page which displays recently accessed notes. Instead, you have a gray and white page that lists out your recently edited notes. You have the option of switching to another notebook with the help of a toggle placed at the top of the screen. The search icon has been moved to the bottom and it gives you a lot of options when you tap on it. You can now change the color of your text and its size. There is a plus icon inside a green circle. A single tap will open a new note. If you hold it, you will see options for creating a remainder or photo and audio notes. When you use the remainder feature, all your reminders are grouped together, making it easier to find them. If you use multiple accounts on Evernote, you will find it easy to switch between your accounts in the new update.
Verdict
Overall, Evernote is a solid note-taking app for iOS devices. It has nifty features such as searching for words within images, PDFs, and all other types of office documents. By taking a picture of your business card, you can digitize it. You can also change the color and size of the text. You can also turn all your notes into presentations to give it a professional touch.
Do give Evernote a try as it is a feature-rich note-taking app.
Brought to you by the RobustTechHouse team.