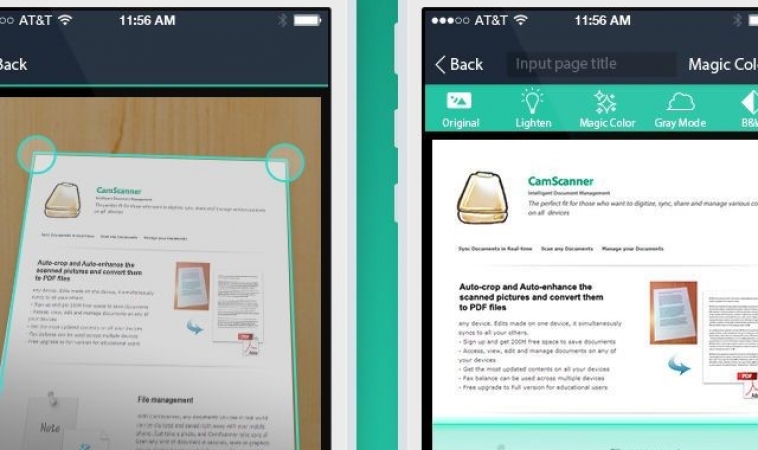 CamScanner is one of the best apps available on the app store for scanning and sharing documents. Developed by INTSIG Information Co., Ltd, CamScanner featured in the top 50 apps for iPhone in 2013. It was also the best-rated app in 2014. Recently, the developers of CamScanner released an update to improve the app. Has the app become better than before? Let's take a look.
Features
CamScanner is an app that is designed to scan and share documents. To scan a document, all you need to do is take a picture of it through the app. There are four modes available when you have to use CamScanner. They are the card, docs, ID card and QR code. Also, if you want to take more than one picture on the app, you can switch to batch mode. All the pictures you take will be stored either in JPEG or PDF format. The files stored can be easily shared with your colleagues or friends via email, social media, cloud servers and even through a link.
All the photos you take for scanning will be automatically cropped and enhanced by the app itself. If you are not happy with the edited picture, you can manually edit it yourself. CamScanner also makes it easy to edit your documents. It has a new feature called Optical Character Recognition (OCR) so that you can manually extract text from different images for further processing. OCR takes the text, enhances and sharpens it so that anyone can read it easily. You can also add your own watermarks and annotations to your documents.
If you are finding it difficult to find your documents, you can add tags to them to make the whole process easier. You also have the option of copying and pasting the document to different locations. You can easily merge all your documents through CamScanner and make it a single file.
One of the best features of CamScanner is the fact that you can set your own passcodes to your documents so that only you or the ones with the passcode can access it. You can also add the passcode while sharing the document to prevent it from getting processed further. This way, all your documents are well secured and protected.
The documents stored in your phone can be easily managed through CamScanner. You can backup your documents to your SD card and restore them if you happen to lose them. CamScanner supports the following cloud storage services:
Box
Dropbox
Evernote
Google Drive
OneDrive
Up to 40 collaborators can be added to your scanned documents so that they can give you their opinion. You can directly fax your documents through this application to over 30 countries. If there is a printer nearby, you can print your documents in a jiffy. Also, you can create a collage of documents that consist of multiple pages. On top of that, you can download multiple PDF files as a batch through any website.
Verdict
Overall, CamScanner Pro is one of the best document scanning and sharing apps available in the app store. You can share your ID cards, business cards, documents and QR code through the app. The app enhances the photos so that it can be read easily by anyone. As it stores the documents in PDF or JPEG format, you can easily share it with your colleagues and friends. On top of that, you can add up to 40 collaborators to your scanned documents. The collaborators are allowed to comment on your scans.
Do give CamScanner Pro a try! For just S$ 6.98, CamScanner Pro is a steal!
Brought to you by the RobustTechHouse team.