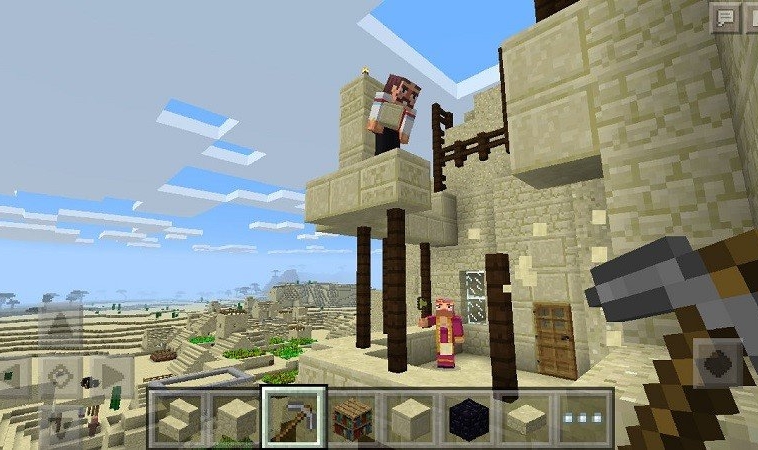 Minecraft: Pocket Edition is basically Minecraft on the go. The joy of building, collecting, and adventuring from the original game can be felt through your mobile phone. It has been six years since the release the game. Has the game fared well against the test of time? Let's find out.
What's changed since the first release?
In the gaming world, six years is a very long time. When you narrow down on the niche, mobile gaming, a lot can happen in that period. The greatest mobile game of 2011 would have become boring and Candy Crush Saga would have added an additional 1000 levels to its game. It is also long enough for developers to transform a disappointing launch release to a beautiful game like its PC counterpart.
When the game was first released, it lacked the majority of the features from the PC version. There were no monsters, no crafting, no mines, no night and the world was small. However, the developers of the game, Mojang continued to develop the mobile edition till it was unrecognizable from the first edition. What was once called featureless now has loads of underground caves that you can spelunk in, a healthy crafting system, a large number of monsters, starry nights, sunsets, and a world that is infinitely expanding. It's gotten to a point where we have only nits to pick out.
The initial release of Minecraft: Pocket Edition had none of the things which made its PC counterpart exceptional. On the other hand, the current version is what you would expect from a port of the original Minecraft.
Gameplay
Essentially, Minecraft: Pocket Edition is digital LEGO in an infinite open world with action and gentle RPG elements. There are two modes available in the game, creative and survival.
In the creative mode, you have unlimited access to all the different types of blocks, even ones that cannot be obtained in survival mode. You also have spawn eggs to generate mobs (creatures in the Minecraft world). You have the ability to fly, you are invincible to all sorts of damage, you can mine instantly, your tools don't wear out, you can go through indestructible blocks, and you won't die of starvation.
You have everything you need to start creating the world you want. If you feel like building a small hut or perhaps your local Taco Bell or even an underwater palace, you can do so with the unlimited resources on hand. Basically, you are god and you can shape the world to any way you see fit.
In survival mode, you start empty handed. You have no resources and have to survive using only those that are naturally available. Monsters can deal damage, you have to eat food to survive, farm to meet the requirements of food, and you gain experience for any activity you perform. When you start off in survival mode, you need to gather as many resources as possible during the day and hide during night time to avoid getting killed by monsters or mobs.
There is even a multiplayer mode where you can play Minecraft with your friends and other users from around the world. You can create worlds together or go on campaigns to defeat the toughest monsters out there.
Verdict
Minecraft: Pocket Edition has grown a lot since its first release. For $6.99, the game is an absolute steal. You can play the game for countless hours and still find new things to do. The developers are active and continue to add more features to the game. Whether you are a fan of the series or a newbie looking for an adventure, Minecraft: Pocket Edition will blow your mind. Download the game on Android or IOS and have the experience of your lifetime.
Brought to you by the RobustTechHouse team