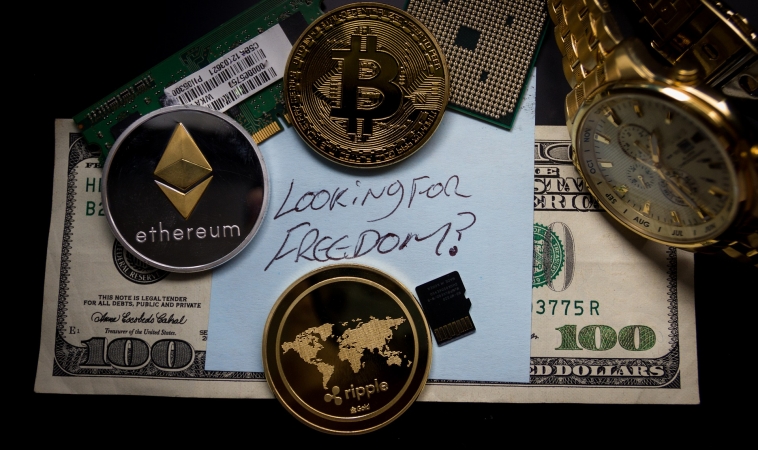 In cryptocurrencies, you CANNOT store coins. Coins are always recorded on the blockchain and never move away from there. You use so-called wallets to store the private key that lets you send the coins by signing a cryptographic function on the blockchain.
What is in a wallet?
Many people confuse that and talk about having "many coins in a wallet." What they actually mean is that they have the keys to a certain amount of coins in their wallet. It also means that if you ever lose a wallet, you don't necessarily lose your funds. As long as you have written down your private keys somewhere else, you can access them from another wallet anytime.
What are different wallet types?
paper-wallet
mind-wallet
soft-wallet
hard wallet
exchanges
What is a paper-wallet?
Back in 2009 when Bitcoin was just starting, the very first private keys were simply created by a random number generator and then written down on a piece of paper. They were called paper-wallets because the private keys were stored on paper. Paper-wallets still exist today and are considered some of the most secure ways of storing your private keys. It's recommended that you only use paper-wallets as a so-called offline backup or cold-storage for large coin amounts, as it is not worth the hassle; you will learn that in a minute.
How to create a paper-wallet
Visit your preferred paper wallet provider; this could be org, Mycelium, Walletgenerator.net or any other choice.
You will be required to type some random text in a box or move the cursor around. This adds some randomness to the wallet generating process.
Once the wallet has been created, look for an option to either customize the look of the final paper
You can also choose the number of papers to be generated
Once you have fine-tuned all the settings, click "generate" and the "print."
For those who would rather not have them printed straight from the internet, you can proceed with the steps below right after you private and public addresses have been generated.
Write your private key or seed WITH A PENCIL on strong clear paper. Do NOT use a pen as it might dissolve over time. Remember, these keys need to survive as long as coins are connected to it, which might be decades.
Best thing is to write the same key or seed on three or four different papers and put these papers into different locations. Consider natural disasters or a break in. Put one in a safe, another into a bank, etc.
NEVER, let me repeat, NEVER make a digital copy of a paper-wallet. This defeats the purpose of such a so-called offline or cold-storage that cannot be accessed by technological means. If a digital copy exists, it can be accessed somehow. So, don't take pictures, don't photocopy it, etc.
When you write your private key down, only change something in it if you can be 100% certain that you will remember what you changed, even in ten years.
Paper wallets are secure but that does not guarantee it is completely foolproof. There was a guy who thought he was extra smart and decided to make his paper wallet inaccessible by changing a letter in the address so that if it lands in the hands of a wrong person, the keys will be useless.
Well, what happened was, when he needed the private key a few months later, he had already forgotten which word he changed into what. He kept trying and trying but could not remember anymore. Gladly he did not have too many coins associated with that private key, but it was still a painful experience.
Pros and cons of a paper wallet
Virtually all wallets come with some level of risk. Online wallets are prone to hacking while hardware wallets can be lost, damaged or lock the user out after forgetting the password. Here are the strength and weaknesses of paper wallets.
Pros
Affordable-you don't a special paper to do this; just use the rim paper or rip a leaf from your notebook.
No need for updates- live wallets need to be updated before being used. Paper wallets, on the other hand, are ever ready to be used.
Secure-the fact that a paper is an offline wallet makes it safe from hackers
They give you full control over your private keys. With online wallets, exchanges usually keep them for you.
Cons
Hard to transfer or send funds somewhere during the first time
Can easily get lost, torn or soaked by water or moisture
Depending on the pen used, the ink can fade and make it impossible for you to read the keys
If someone takes a photo of the paper, your bitcoins are gone forever
Paper wallet safety measures
When creating a paper wallet, there are things you need to be aware of. Here is a list down of them:
Generating the wallet while offline guarantees that the software generator is actually self-contained and is not sharing your keys online.
You have to verify the authenticity and integrity of the generator or its code to be sure it is producing keys randomly. Some platforms are usually modified to generate a certain address known to a malicious individual who can withdraw your crypto coins later on.
Don't save your wallet on a computer or take a photo/scan of it. Neither should you mail it to someone else. It beats the logic of offline security.
Never use web-based generators
Some printers keep a copy of every paper that is printed out. Keep note of such gadgets and avoid using them.
Last, but not the least, unlike other wallets, a single paper wallet contains only one key and thus good for a single payment only. This means you only have a single chance to redeem your coins.
The bottom line
As hackers continue to sharpen their hacking skills and prove hard to avoid, a paper wallet is going to be the second best alternative after offline hardware wallets. Paper wallets can keep your coins safe as long as you stick to the safety measures highlighted in this article.