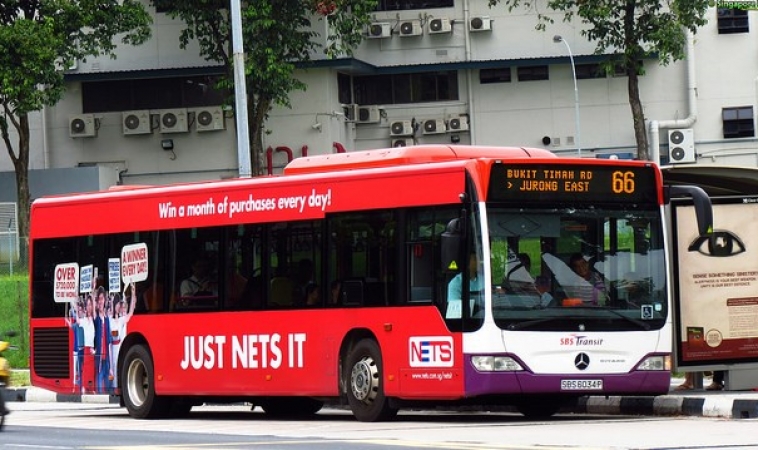 Now pay through your mobile phone with the new NETS app
Post-October, you no longer need to carry your cards or cash around as NETS is releasing a mobile app called NetsPay, allowing you to pay with your mobile phone. All you need to do is link your ATM card with the mobile app. After that, just tap your phone on the Nets terminal or scan a QR code to complete the payment.
NETS also said that Standard Chartered, Maybank, HSBC, UOB, OCBC and DBS are going to be a part of their mobile app. By 2018, all the acceptance points by NETS will accept this form of payment. Soon, even e-commerce sites will accept NETS' QR code payment.
Image Credits: Flickr
Mobile app for new work pass card introduced
From September 15th, it will be much easier for workers to check their employment status, thanks to the new work pass card. With the help of an app called SGWorkPass(available on the App Store and Google Play Store), workers can scan the QR code on their new work pass card. Stakeholders, employers and pass holders can find out about the status of the work pass. At the same time, they can also get additional information about the pass holder such as their occupation.
As it is possible to terminate foreign workers before their work passes expire, the new ones won't display the date of expiry. Holders of long-term Visit Pass, Related Dependant's Pass, Employment Pass, S Pass and domestic workers will be receiving the new cards post-March 2018.
Medical apps in Singapore on the rise for virtual consultations
Thanks to medical apps such as Doctor Anywhere and MyDoc, the number of virtual consultations is on the rise in Singapore. You no longer have to call the doctor or visit the nearest clinic to make an appointment. All you have to do is open your phone, describe your symptoms and a doctor will contact you through a video call.
Within the comfort of your home, you can communicate with real doctors through virtual consultations. If you have a 10-minute virtual consultation with a doctor, it will cost you S$30. Through these apps, doctors can give you electronic medical certificates, refer you to specialists and prescribe medication.
Now transfer funds through mobile messaging apps with OCBC Keyboard
If you are using mobile apps such as Instagram, Gmail, Facebook and Whatsapp, and you are a customer of OCBC mobile banking, then you can start a fund transfer through the new OCBC Keyboard. The new app uses OCBC Mobile Banking app's feature – OCBC Pay Anyone to make this possible.
Download the latest version of the OCBC Mobile Banking app and make the default keyboard the OCBC keyboard. However, this keyboard is only available for Android devices at the moment. All you need to do is to enter the number of the recipient along with the amount you wish to transfer. Then you have to enter the username, password and the OTP so that the transaction can go through.
Land Transport Authority testing Android Pay and Apple Pay for public transport
Soon, you may be able to pay for public transport through Android Pay and Apple Pay. In the first quarter of 2018, LTA will begin testing mobile payment methods such as Samsung Pay, Android Pay, and Apple Pay.
If successful, LTA will extend this scheme to NETS and Visa cards in June 2018. The initial scheme was launched in March 2017, allowing users to pay for public transport through contactless debit or credit Mastercards. If you want to be a part of this program, visit this page.
Brought to you by RobustTechHouse