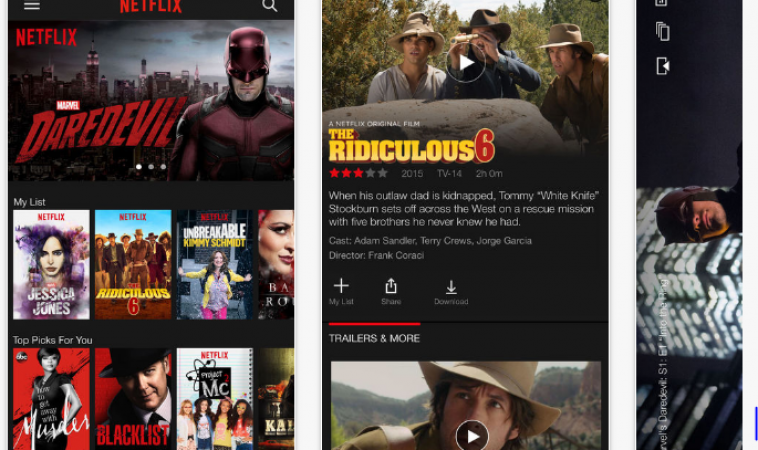 Overview
If you are looking for a video streaming application for your Apple device, Netflix is what you need. Since its debut for the iOS platform, Netflix has become a must-have application for all Apple users. Netflix is a DVD rental and video streaming service offering a large collection of movies, documentaries and television series that can be streamed over a Wi-Fi network. In addition to movies and television series from big-shot production houses, the app also features programs produced and financed by the company itself.
The concept of Netflix is fairly simple: people with Netflix account, which comes for a monthly fee, can stream movies, television series and documentaries on their iOS devices through its "Watch Instantly" service. However, the programming varies from country to country. Though the iPad and iPhone versions of the app differ a little, you can watch a show on the fly with the Netflix app.
Netflix content
Netflix has an enthralling collection of TV series and movies, both contemporary and classic, that makes it a leader in the video-streaming segment. Not only does it allow you to watch old seasons of your favorite television shows, but also gives you the seasons of the shows running in cable network except HBO.
But Netflix also suffers from some limitations in terms of content. Although the company is striking deals with production houses for making seasons available more quickly, you might have to wait for at least 10 months for the new seasons to come on Netflix. The company has an original approach towards content creation, and addresses a niche audience while producing a show.
User experience
You won't take very long to get a hang of the application. You enter your details, payment option and number of screens for setting up an account on Netflix. After you sign up, you have to fill up a small questionnaire about the types of movies and television shows you would like to watch. Based on this, Netflix will recommend shows. It also has a search function that allows you to go beyond the recommended shows.
Netflix's feature that allows you to create multiple user profiles makes it even easier to find interesting shows. For example, if you have selected "two-screens" while setting up the account, Netflix provides personalized recommendation based on the interests of both users. Moreover, there are no advertisements ruining your experience. The shows run as and when they buffer without any promotions in between.
Features
Netflix started as a television streaming application for computers only. But today, it has grown to cover the latest smart phones. You can stream shows using Blu-ray players, smart televisions, tablets, smartphones and gaming consoles. Actually, any device with an internet cannot can be used to stream shows on Netflix.
Netflix also provides some shows in 1080 pixels resolution, which it calls Super HD. Content with this resolution display the "Super HD" tag in the description. The resolution, however, depends greatly on the speed of your internet connection. A speed over 7Mbps is great for streaming high-resolution videos on Netflix.
Netflix also allows you to create content queue, which lines up television shows you would like to watch later. You can simply add them to your list and watch them as and when you feel like. The more shows and movies you watch and rate, the better your experience becomes because Netflix would recommend shows based on your taste and preference.
Netflix is available at a low price, has no hidden charges, provides unlimited video streaming and is supported on multiple devices, but has high-speed internet requirement. However, Netflix is the best video streaming service to have for home entertainment. You get an amazing collection at a fair price. The one-month free trail alone will leave you glued to it.
Brought to you by RobustTechHouse team