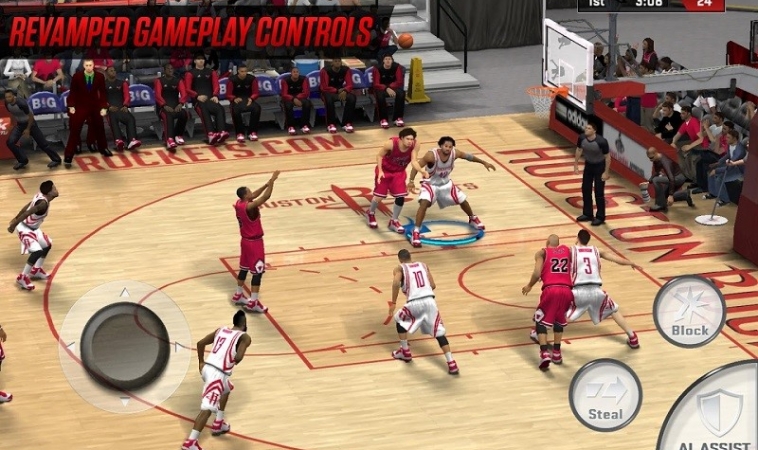 When you think of basketball games, only the NBA series comes into your mind. There simply isn't any other series that even comes close to NBA. After having successful launches on gaming consoles and PCs, NBA 2K17 finally made its appearance on Android and iOS. Have the developers got it right this time for the mobile version? Let's take a look.
Gameplay
Right off the bat, you can see that 2K has been working on the aesthetics of the game. The players look more realistic, which looks extremely good on your iPhone. The presentation of the stadium has become better and there are new animations. You can change the animation for dunks, free throws, jump shots, layups, and rituals. Overall, the game is smooth as the frame rate is stable for extended periods of time.
NBA 2K17 has four modes: Blacktop, MyCareer, Quick Game and Season. In MyCareer, you get to create your own player. There is a myriad of options available to tweak the look of your player. As soon as you are done creating your player, you have to play four college games, to get drafted to one of the 30 official teams. You have to give it your best for every game as it will determine which team will select your player. Now, you can do a lot more things when you are not playing for your team. You can sign endorsement deals and you can become friends with other players and train with them. There is more depth to the game as you have to choose between improving your attributes or increasing your fan power.
In Blacktop mode, you get to play with your MyCareer player. You can take on other human players in the game to see who's better. You have the option of playing from one on one to five on five. There is also a quick arcade option, where you can include basketball legends in your team. You can jump into the heart of NBA action with Quick Game. If you are not interested in playing short matches, you can also opt for Season mode.
The controls are quite simple, making it easy to grasp. You have a virtual stick on the left side and buttons for shoot, pass, sprint/dribble, and set a pick on the right. There is a dedicated button for a defensive assist, making it easier to track your opponent. You can swipe from the sprint/dribble button to the smaller ones, making the gameplay fluid. This means that you can dribble up to the free throw line and take a shot without breaking the flow. Some buttons have a double tap, allowing you to do special moves such as alley opp and post up to name a few. If you don't feel like using the onscreen controls, you can always connect a third party controller as NBA 2K17 supports it.
There also has been a number of improvements in the game engine. The court action has more flow as you can pass the ball to the cutters, execute fast breaks and have control over the offensive. Dribbling has improved significantly since the last iteration of the game. You can drive all the way to the ring, pass the ball to a shooter in a better position, or ask for a double team so that you can pass to your cutter.
Verdict
Overall, NBA 2K17 is a brilliant game. The improvements are significant and the developers added more content, making it one of the best sports simulation games for iOS at the moment. Although the price (S$10.98) is quite steep, you won't have to make additional purchases in the game. All in all, NBA 2K17 is an exceptional basketball game that gets everything right.
Brought to you by the RobustTechHouse team.