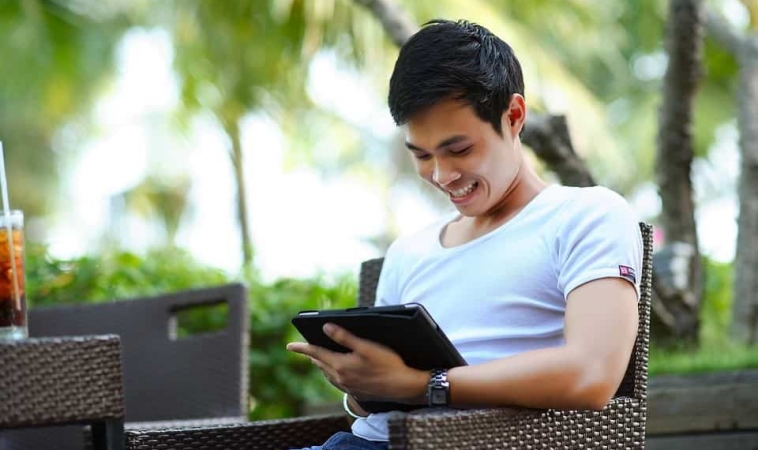 Image source: https://pixabay.com/en/man-smartphone-mobile-technology-1718099/
One primary reason why consumers prefer to use Android smartphones rather than iOS devices is the level of customization the OS provides. Due to growth in mobile app development, you can change almost every element on Android OS. For instance, you can reprogram the buttons on your device, to open apps or execute functions such as turn off the screen or switch on the flashlight. Mobile app development in Android has come a long way, in terms of functionality and personalization.
However, Google Play Store has thousands of mobile apps which offer varying degrees of customization. Today, let's examine the top 3 personalization mobile apps in Singapore:
Color Flash Launcher – Call Screen, Themes
On top of the personalization "free" category is Color Flash Launcher by Finger Studios. The app gives you a brief introduction on how you can use some of its features. The launcher categorizes all your applications, giving the home screen a clean look. There is a myriad of features, which you can use to change almost every aspect of how you interact with your smartphone.
For instance, you have the option of selecting from a wide range of presets, which change the call screen. If it is challenging to make up your mind, you can take a look at which ones are popular among the app's users. It comes with "Boost+" a feature which clears the memory of your smartphone. It has a "Junk Cleaner," which removes unnecessary files from your smartphone. At the same time, you can use it to control your notifications, so that only the important ones are visible at all times.
The app comes with a theme store, which allows you to change the wallpaper, icons, and keyboard. It has "App Lock," a feature to prevent other people from using applications with sensitive information. You can ask the launcher to scan the background apps and take action to prevent them from draining your battery.
Zedge™ Ringtones & Wallpapers takes the second spot in this list, with over 100 million installs and 6 million reviews. Unlike Color Flash Launcher, this app allows you to customize your smartphone from a different perspective. In the main screen, it shows you a wide range of high-quality wallpapers. It categorizes them, giving you the opportunity to find one which meets your preferences. You can search for wallpapers according to their color profile, a unique feature of this app.
The user interface is responsive, and you can switch between the different screens easily. Similarly, you can download custom notification sounds and ringtones. If you like some of the offerings, the app allows you to add them to your favorites. Users who play games can go through the recommendations of Zedge™. You can get the app to change the wallpaper on a regular basis. If you don't find the right wallpapers or ringtones, the app allows you to search for the same.
Zedge™ offers credits, which you can use to purchase premium content from the app. If you don't feel like spending money, you have the option of completing tasks to get free credits.
With more than 10 million downloads, Microsoft Launcher takes up the fifth spot under Google Play Store's "Personalization." The developers of this app want its users to make the most of customization and productivity.
After opening the app, you get the option of sticking with your regular wallpaper or get new ones from Bing every day. To make the most of the offerings of this launcher, you need to login to your Microsoft account. It allows you to port the layout from other apps, a handy feature if you have spent hours in customization. Once you start using Microsoft Launcher, it will give you helpful tips.
If you swipe to the right from the home screen, you can take a look at the personalized news feed. The app pulls information from popular news sources and your calendar. If you click on any of the articles, the app will open them in the in-built browser. As a result of this type of mobile app development, Microsoft Launcher provides an immersive experience.
You get access to Cortana, a virtual assistant who can carry out a variety of functions. For example, you can ask it to read the headlines, set a reminder to buy a product, or transfer photos to your PC.
The feed is customizable, giving you the opportunity to change it as per your preferences. Like every other launcher, you can change all its elements. You can set custom icon packs, change the gestures, or even personalize search function.
These are top 3 mobile apps in Singapore in the "Personalization" category. Is there any other app available in the Google Play Store which should have made it to this list? If yes, leave a comment below!
Brought to you by RobustTechHouse